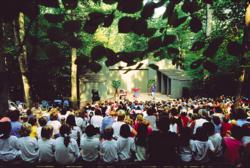 (PRWEB) May 01, 2012
Wolf Trap Children's Theatre-in-the-Woods 2012 season is now on-sale featuring a diverse array of performance genres including kindie rock, Latin, Afro-Caribbean, country, folk, jazz, bluegrass, and pop-rock, as well as Irish dance, ballet, puppetry, and musical theatre. Thirteen new artists will grace the outdoor stage nestled in the woods behind the Filene Center. Debuts include (but are not limited to) Justin Roberts, The Jimmies, Elizabeth Mitchell, Eric Brace & Peter Cooper, Aaron Nigel Smith, German puppeteer Matthias Kuchta, jazz group Coal Train Railroad, and the drama ensemble Pushcart Players. Three audience favorites will also return this year: the Culkin School of Traditional Irish Dance, DinoRock, and pop-rock singer Robbie Schaefer, the guitarist for the popular Virginia-based pop band Eddie from Ohio and host of Sirus XM Radio's Kids Place Live.
Wolf Trap Children's Theatre-in-the-Woods 2012 season will run from June 26 through August 11. New this year, Theatre-in-the-Woods will feature one performance per day, Tuesdays – Saturdays at a new time of 10:30 am. This new structure is designed to provide children, families, and groups more time before and after the performance to enjoy the activities within the National Park as well as to meet and greet many of the performing artists.
"We are extremely pleased to offer such a diverse array of shows this year for young audiences. Our goal this season is to present performances that mirror the diverse programming of the Filene Center and The Barns at Wolf Trap," said Erin Perry, Assistant Director, Education Outreach at Wolf Trap Foundation for the Performing Arts. "Wolf Trap Children's Theatre-in-the-Woods' beautiful, natural setting is the perfect venue for children to enjoy the performing arts. Our theatre may be the first place children see a play, rock concert, ballet, or puppet show, so we strive to provide an inspiring, creative, dynamic, high-quality experience. We are truly cultivating the next generation of performing arts supporters and participants."
Performances are recommended for children 4 and up. Ticket prices range from $8 to $10 and children under two are free. Wolf Trap Children's Theatre-in-the-Woods is located within America's only National Park for the Performing Arts behind the Filene Center. Theatre-in-the-Woods Patrons are encouraged to bring a picnic lunch to enjoy after the show as well as take part in National Park Service Programs. For more information on the National Park Service, contact 703-255-1800.
Wolf Trap's 2012 Children's Theatre-in-the-Woods Season
June 26 & 27: Hot Peas 'N Butter – They incorporate both English and Spanish lyrics with a mix of jazz, rock, and pop set against Latin and Afro-Caribbean beats.
June 28: Culkin School of Traditional Irish Dance – Young dancers hit the stage with a breathtaking display of rapid fire footwork accompanied by the energetic rhythms of Celtic music.
June 29 & 30: Eric Brace and Peter Cooper – Drawing inspiration from the tranquility and beauty of nature, this Nashville duo presents gentle country melodies and charming lyrics from their 2011 GRAMMY-nominated album, I Love: Tom T. Hall's Songs of Fox Hollow.
July 3: DinoRock – In this interactive production, giant colorful puppets created by the Emmy Award-winning puppet designer Ingrid Crepeau offer catchy songs, clever skits, and roaring-fun dances.
July 5 – July 7: Elizabeth Mitchell – Smithsonian Folkways Recordings artist Elizabeth Mitchell performs classic folk melodies alongside her husband and young daughter. Led by Mitchell's delightfully appealing vocals, their sweet, inspiring songs will remind you of the warmth and cheerfulness of a sunny day.
July 10 & 11: Coal Train Railroad – Pulling in from Nashville, Tennessee, this hip ensemble takes children and families into the delightful and playful world of jazz.
July 12: Aaron Nigel Smith – Designed to get kids moving, his live performances are high-energy, interactive shows that invite the audience to jump, play, sing, and dance through a collection of, fun exuberant songs. Smith is well-known from the PBS KIDS Emmy Award-winning show Between the Lions.
July 13 & 14: The Jimmies – Kindie-rock queen Ashley Albert and her band bring edge, sophistication, humor, and style to the kingdom of kid's music.
July 17 & 18: Rani Arbo & daisy mayhem – Join this dynamic quartet for a unique blend of blues, swing, and country that incorporates everything from a ukulele and banjo to a cardboard box and suitcase.
July 19: Robbie Schaefer – Guitarist from folk-pop group Eddie From Ohio and host of Sirius XM radio's Kids Place Live, Robbie Schaefer delivers Songs for Kids Like Us, a collection of "catchy, clever, and slightly cheeky tunes that take you on a romp through musical styles and colorful arrangements" (CD Baby). Sing along to "Cowboy Bob" and shout out with "Chicken Lips."
July 20 & 21: Kirov Academy of Ballet of Washington D.C. – Through a series of beautifully designed vignettes, this ballet academy reveals the secrets, techniques, and history of one of the world's most elegant art forms.
July 24 – July 28: Matthias Kuchta – Enchanting hand-made puppets come to life in this magical rendition of a Brothers Grimm fairytale, The Wolf and the Seven Little Goats. Internationally acclaimed German puppeteer Matthias Kuchta uses life-size puppets to share the story of seven little goats that let a wicked wolf into their home.
July 31 – August 2: Okee Dokee Brothers – The Okee Dokee Brothers are a modern-day Huck Finn and Tom Sawyer who travel down the Mississippi River looking for adventure and writing songs along the way. Their nature-inspired lyrics and catchy bluegrass melodies encourage kids to have fun in the great outdoors.
August 3 & 4: Pushcart Players – Happily Ever After…A Cinderella Tale is a lively musical performance that features music by the Tony Award-winning composer Larry Hochman.
August 7 – August 9: Before the People Came – Based on an African fable, the production features a combination of poetry, dance, and delightfully imaginative costumes accompanied by an eclectic blend of jazz, blues, pop, and African rhythms.
August 10 & 11: Justin Roberts – GRAMMY-nominated pop-rock star Justin Roberts has been hailed by USA Today as "the Paul McCartney of kids' music." Known for his cleverly insightful lyrics that touch on all aspects of childhood, his recordings take listeners on a journey through iconic experiences that kids will relate to and parents will remember.
Prices for Theatre-in-the-Woods performances range from $8 to $10 and are on sale now. Tickets can be purchased at Tickets.com, by calling 1 (877) WOLFTRAP, online at http://www.wolftrap.org/TITW, or at the Filene Center Box Office at Wolf Trap National Park for the Performing Arts. Arrangements may be made in advance for special-needs accessibility by calling the National Park Service at (703) 255-1827. Tickets are required for all performances for adults and children ages 2 and up. Advance purchase is recommended as performances often sell out. Groups of 10 or more should contact the Wolf Trap Group Sales Office at (703) 255-1851.
For potential changes to the Children's Theatre-in-the-Woods schedule, please always refer to http://www.wolftrap.org/Education/Childrens_Theatre-in-the-Woods.aspx.
About The Wolf Trap Foundation for the Performing Arts
The Wolf Trap Foundation for the Performing Arts, a 501 (c)(3) nonprofit, founded by Catherine Filene Shouse (1896-1994), produces and presents a full range of performance and education programs in the Greater Washington area, as well as nationally and internationally. Wolf Trap features three performance venues, the outdoor Filene Center and Children's Theatre-in-the-Woods, both located at Wolf Trap National Park for the Performing Arts, and The Barns at Wolf Trap, located down the road from the park and adjacent to the Center for Education at Wolf Trap. In partnership with the National Park Service, the 7,028-seat Filene Center annually showcases an extensive list of diverse artists, ranging from pop, country, folk, and blues to classical music, dance, theater, and multimedia presentations, from May through September. The Barns operates year round, and during the summer months is home to the GRAMMY-nominated Wolf Trap Opera Company, one of America's outstanding resident ensemble programs for young opera singers. Wolf Trap's Education Programs include the nationally acclaimed Wolf Trap Institute for Early Learning Through the Arts, Children's Theatre-in-the-Woods, a diverse array of arts education classes, scholarships, and a nationally recognized internship program that was included in Bloomberg BusinessWeek's 2009 List of "Best Places to Intern." As part of its ongoing commitment to protect and preserve the environment, Wolf Trap offers metro access and is a founding member of the Green Music Group. Terrence D. Jones is president and CEO of the Wolf Trap Foundation for the Performing Arts.
Visit the Wolf Trap website at http://www.wolftrap.org for more information.