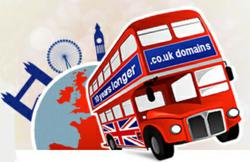 The decision for the new longer term registration is a great improvement to customers who have felt they lacked choice under the old rules.
London, UK (PRWEB UK) 1 May 2012
As of today domain owners will have the option to register or renew their UK domain names for up to 10 years with companies such as Names.co.uk after a decision by Nominet, the registry for .uk domains. Having previously been available for only a 2 year duration, this decision will be implemented in the wake of .uk having reached its 10 millionth registered domain earlier in the year. This shows the huge demand that surrounds the world's second largest country code domain registry and allows .uk extensions such as .co.uk, .me.uk and .org.uk to benefit.
Thanks to the ability to now protect your domain for an extended period of time, businesses and consumers can benefit from the security of locking in and owning their domain names for up to a decade.
While this clearly benefits those with long term plans within the market, new businesses are also given more room to save as the minimum domain name registration has been brought down to 1 year.
Commenting on the groundbreaking event, Sally Tomkotowicz, Customer Acquisition Marketing Manager, Names.co.uk said; "The decision for the new longer term registration is a great improvement to customers who have felt they lacked choice under the old rules. At Names.co.uk we applaud the decision as we have always understood that our customers want flexibility to control the registration period of their domain name. While the option of renewing your domain for the 10 year period will be a popular one, the added choice of 1 year registration has given more freedom to shorter term opportunities such as one-off events."
By keeping a domain name for the longer 10 year period, it has been argued that owners can improve their search engine rankings, reaping the rewards of longevity. Along with the potential search engine benefits, there is also the advantage of lower per year prices with longer term registrations.
These new rules may also potentially rein in "cybersquatting", where not renewing a domain can open it up for a third party to acquire and then ransom it back to the original owner. Nominet has stated that 15% of non-renewed domain names are re-registered by someone else within one day and 7.5% are re-registered within 10 seconds.

About Names.co.uk
Names.co.uk provides professional online services for businesses and individuals including Web Hosting, Domain Name Registration, Email services, Ecommerce solutions and Business Servers. Names.co.uk has over 15 years' experience in the Internet industry and employs a team of nearly 200 expertly trained individuals across the UK.
Names.co.uk is part of the Dada Group, an international group of companies who specialise in providing professional Internet services. As a group, they currently have over 1.7million domains registered and over 480,000 clients using their products and services.
For more information please see http://www.names.co.uk