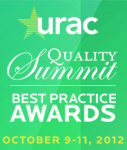 Washington, DC (PRWEB) May 01, 2012
URAC announced today that a distinguished panel of judges has selected 19 finalists for its 2012 Awards for Best Practices in Health Care Consumer Empowerment and Protection. The competition drew entries from across the nation. The finalists will be honored during URAC's 2012 Quality Summit, October 9-11, 2012 in San Francisco, CA. The awards honor programs in two areas: Consumer Decision-Making and Consumer Health Improvement.
"In a time of historic change in the health care industry, the Best Practices Awards provide an opportunity for leaders in health care to focus attention on those organizations who are delivering on the mission to advance consumer protection and empowerment," said Alan P. Spielman, President and CEO of URAC. "URAC is honored to share these programs and raise awareness of innovative approaches to health care delivery and management that can be replicated across the industry."
Finalists in the 2012 Best Practices Awards competition are:

Alere Health, LLC, Use of Standardized Education Tools to Improve Health of High Risk Infants
CareCore National, LLC, Member Scheduling for Diagnostic Imaging
CECity.com, Inc., ASPIRE: Integrating Quality Metrics with Focused Interventions to Improve Adherence
Centene Corporation, Asthma Solutions for a Managed Medicaid Population
Cisco Systems, Inc., LifeConnections Health Center
Family Health Network, Inc. and PsycHealth, Ltd., Bridges To Health
Family Health Network, Inc. and PsycHealth, Ltd., Brighter Beginnings: 5 Years of Improving Perinatal Depression Screening and Mental Health Treatment
Magellan Health Services of Arizona and Arizona Department of Health Services/Division of Behavioral Health Services, Provider Outcomes Dashboard
Magellan Health Services, Inc., Youth in Transition Prevention Program
Medco Health Solutions, Inc., RationalMed®: Patient Health and Safety Solution
Medical Mutual of Ohio and Eliza Corporation, Improving Preventive Screening Rates Through Interactive, Automated Outreach
National Imaging Associates and Magellan Health Services, Inc., Radiation Calculator: An Interactive Tool to Calculate and Track Medical Imaging Radiation Exposure
OptumRx, My Medication Reminders Text Messaging Program
SXC Health Solutions, Inc., Real Time Solutions to Collaborate and Improve Adherence
TrestleTree, Inc., Extraordinary Results with "Required" Participation of Unmotivated Employees
TriWest Healthcare Alliance, Collaborative Continuing Education Delivery
TriWest Healthcare Alliance, Embedding Civilian Providers in Behavioral Health Units: A Strategy for Success
WellPoint, Medicare Advantage Stars Outbound Call Program
Willamette Valley Providers Health Authority, MOMS Program
Award entries detailed innovative and proven programs from patient-centered medical practices, health information/decision support, health management, pharmacy management and workers' compensation companies as well as health plans and health networks. More than twenty of the nation's foremost thought leaders in health care judged the entries based on criteria established by URAC.
Finalists are invited to present their winning programs at URAC's 2012 Quality Summit. During a special event at the conference, Platinum award winners will be announced in the two topic categories. Gold, Silver and Bronze awards, as well as Honorable Mention, awards will be presented in six organizational categories. For complete conference details, go to https://www.urac.org/13thAnnualSummit/13thAnnualSummit.asp.
About URAC
URAC, an independent, nonprofit organization, promotes health care quality through its accreditation, education and measurement programs. URAC offers a wide range of quality benchmarking programs and services that keep pace with the rapid changes in the health care system and provides a symbol of excellence for organizations to validate their commitment to quality and accountability. Through its broad-based governance structure and an inclusive standards development process, URAC ensures that all stakeholders are represented in establishing meaningful quality measures for the entire health care industry. For more information, visit http://www.urac.org.