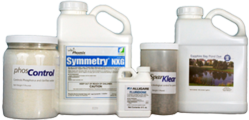 New to the website are an enhanced weed identification section and a graphical product finder tool.
Rogers, MN (PRWEB) May 03, 2012
Pond and lake weed control products and services provider Lake Restoration of Rogers, MN today announced that it has launched a new website to help pond and lake management stewards better identify aquatic weeds and find the right products to control them.
New to the website are an enhanced weed identification section and a graphical product finder tool. First, the weed identification section helps users figure out what types of weeds have infiltrated their waters. Second, the product finder tool helps them determine the right type of product to control or kill pond and lake weeds.
While Lake Restoration sells many traditional herbicides and algaecides in its online store, the website was designed to draw attention to all-in-one pond and lake weed control kits that address a variety of weed issues while servicing the general health of water, shorelines, and beaches. The kits include PONDRestore Ultra and PONDRestore for entire bodies of water, RestoreAcess Ultra and RestoreAccess for dock and swimming areas, and the Open Water kit for open water spaces and cattail control in particular. Other products include lake rakes, goose control equipment, muck elimination solutions, and more.
"We're very excited about our new website," says Kevin Kretsch, CEO of Lake Restoration. "We think it clearly expresses to visitors that they can take care of all of their pond and lake weed issues with our product kits."
Additional website content includes tips for taking care of ponds and shorelines and video demonstrations of product application best practices. It is the first website launch for Lake Restoration since 2005.
About Lake Restoration
Lake Restoration, located in Rogers, MN, has been restoring the beauty of lakes and ponds since 1977. Each year Lake Restoration services thousands of home and cabin owners, including swimming areas and ponds of all sizes. Products include exclusive kits that allow customers to treat a variety of pond weed maladies with simple, do-it-yourself solutions. To learn more about pond and lake weeds and products and services to treat them, visit lakerestoration.com.