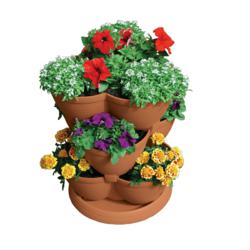 If I had a single flower for every time I think about you, I could walk forever in my garden. ~Attributed to Claudia Ghandi
Colville, Washington (PRWEB) May 04, 2012
For a special Mother, send a special gift that anyone will love from MyEcoGardens.com
Only One Mother
Hundreds of stars in the pretty sky,
Hundreds of shells on the shore together,
Hundreds of birds that go singing by,
Hundreds of lambs in the sunny weather.
Hundreds of dewdrops to greet the dawn,
Hundreds of bees in the purple clover,
Hundreds of butterflies on the lawn,
But only one mother the world wide over.
Mothers are special. For Mother's Day express love with this multi-layer planter that is crafted from durable, U.V. protected plastic and can withstand all four seasons outdoors! With a 30-quart capacity, the Stack-A-Pot is ideal for the creative gardener. The planter includes three layers plus a base; each layer holds three plants. Image your home or patio cascading with colorful flowers, tasty herbs, succulent strawberries, or plump tomatoes. The layers stack upward, saving valuable space, and collapse again for easy storage! The perfect gift for Mother's Day.
Dimensions:
14.2 x 14.2 x 9 inches
SHIPPING IS FREE
There are also other Mother's Day gifts along with lots of great seeds at http://www.myecogardens.com.
MyEcoGardens is a reliable site that provides quality products for anyone's gardening needs. This site provides a wide ranging and unique product line, at the highest level of quality and service available.