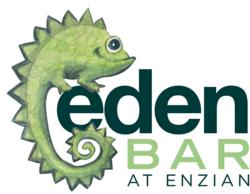 Maitland, FL (PRWEB) May 01, 2012
Celebrate Cinco de Mayo on Saturday, May 5 with the Eden Bar crew! The bar opens at 11AM with 2-for-1 Margaritas, $2 Corona specials and more! Make a day of it – be there after 6PM for dollar tacos and a chance to spin the "Drinko-de-Mayo" prize wheel! Wear a sombrero, and get a free Jello® shot! As the sun goes down, grab that sombrero and head to the lawn to enjoy a free screening of ONCE UPON A TIME IN MEXICO, starring Antonio Banderas, Salma Hayek, and Johnny Depp.
All Day Cinco de Mayo Specials:
2 for 1 Well Margaritas $5
2 for 1 Call Margaritas $7
$3 Shots Jose Cuervo
$5 Shots Patron
$7 Shots Partida
$2 Corona
Specials After 6PM:
$1 Tacos
$3 Nachos
Chance to spin the "Drinko-de-Mayo" Prize Wheel. Must be 21 to spin.
About Eden Bar:
Offering delicious entrees and original cocktail creations, Eden Bar delivers an experience that excites your taste buds and elevates your spirits. Located at Enzian, Eden Bar is Central Florida's ultimate alfresco dining experience. Relax as you escape to a lush landscape filled with flourishing, green gardens amid 400-year-old oaks and brimming with good 'ol southern hospitality. Eden Bar is open seven days a week starting at 11AM!
Serving Lunch & Dinner Daily
Open:
Mon–Thurs: 11AM – 11PM
Fri & Sat: 11AM – 2AM
Sun: 11AM – 11PM
For additional information:
On-line: Enzian.org/food/Eden_Bar
Twitter: @EdenBar
About Enzian:
Enzian is Central Florida's only full-time, not-for-profit cinema for first-run independent and international films, classic revivals, documentary features, and select family entertainment. Enzian, a member-supported organization serving the community for 27 years, is home to the internationally recognized Florida Film Festival and the Eden Bar.
For additional information:
On-line: Enzian.org
Phone: (407) 629-1088
Facebook: Facebook.com/EnzianTheater
Twitter: @EnzianTheater