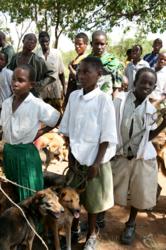 This is rare win-win situation for both wildlife and people.
Silver Spring, MD (PRWEB) May 03, 2012
On April 25th, Lincoln Park Zoo researchers vaccinated their one millionth dog in a now decade-long conservation project designed to save endangered carnivores in Serengeti National Park by eliminating rabies. AZA dives into this story on the Explore blog.
Thanks to the work of Lankester and his team, approximately 150 human lives have been saved from rabies infections per year. Additionally, African wild dogs have returned to the ecosystem after being absent some 20 years, the lion population has rebounded, and populations of other vulnerable native species have been given a much-needed chance to recover.
"This is rare win-win situation for both wildlife and people," said Lankester. "Rabies in Serengeti wildlife has been eliminated, rabies in domestic animals has been eliminated, and the number of rabies cases in humans has dropped to zero."
Founded in 1924, the Association of Zoos and Aquariums is a nonprofit organization dedicated to the advancement of zoos and aquariums in the areas of conservation, education, science, and recreation. Look for the AZA logo whenever you visit a zoo or aquarium as your assurance that you are supporting a facility dedicated to providing excellent care for animals, a great experience for you, and a better future for all living things. The AZA is a leader in global wildlife conservation, and your link to helping animals in their native habitats. To learn more visit http://www.aza.org.
###