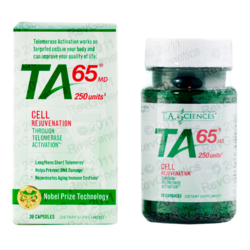 Scientists are waking up to the terrific anti-aging properties of this product.
Miami, FL (PRWEB) May 07, 2012
RevGenetics, the world's leading online source for TA-65 can't wait to highlight exciting new research, proving their anti-aging supplement has a clear benefit in human cells. Conducted by Dr. Hector Valenzuela, Ph.D., a visiting scholar at UCLA and Associate Professor at Whittier College, the research will be released for publication at the end of May.
"We're gratified by the scientific support for what we're seen in people who regularly use TA-65. Scientists are waking up to the terrific anti-aging properties of this product," said Anthony Loera, RevGenetics president and longevity advocate of RevGenetics. "We are proud to be the world's top online source of TA-65. I really believe that we really make it easy and convenient for folks to purchase it with a click of the mouse, and immediately have it sent quickly to all points around the world."
Telomerase activation is said to benefit immune system function, vision, sexual function and skin improvements (http://www.revgenetics.com/ta-65/ta-65-health-benefits). And this new research suggests TA-65 is an effective telomerase activator. TA-65 is made from astragalus, small green plant. It takes more than a pound of the raw plant to make up a single TA-65 capsule, and is much safer. Natural astragalus is very high in iron, so high that eating a pound of the plant material could cause iron poisoning.
"The days where you had to fly in to New York or another distant city just to purchase TA-65 directly from a doctor, are over. RevGenetics has finally made it possible to conveniently purchase TA-65 online and have it shipped worldwide," said Loera.
About RevGenetics
RevGenetics, is a company focused on providing and developing small molecule herbal products for overall health based on the activation of genes that have shown to provide health benefits and longevity in various independent University studies. RevGenetics prides itself in providing independently tested products, as well as the marketing and distribution of unique health and nutritional products. RevGenetics currently provides the only micronized resveratrol bulk powder measuring 1.5 microns for high absorption, that has been considered by L'Oreal and used by international manufacturers. TA-65® Is a registered trademark of Telomerase Activation Sciences, Inc. and RevGenetics (http://www.RevGenetics.com/TA-65) is the worlds top online source for TA-65®.