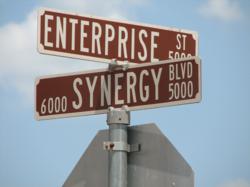 (PRWEB) May 03, 2012
The Kilgore business community has welcomed its newest corporate citizen, DRILLTOOLS, LLC, into Synergy Industrial Park. The company combines new and existing technology to manufacture drilling and excavation products primarily for heavy civil construction.
DRILLTOOLS has constructed a 50,000 SF building valued at $1,780,000 on 9.25 acres at 401 Enterprise St. The company also has installed $2,550,000 in machinery and equipment, and intends to acquire $950,000 worth of inventory and hire 40 full-time employees. In return, Kilgore Economic Development Corporation will grant the company incentives worth $337,500 for the construction of capital improvements in Kilgore and for new job creation to offset the cost of the company's real estate purchase in Synergy Park.
Bo Steding, who is managing partner for the company and who has worked in the engineering field for more than 30 years, said he chose Kilgore's Synergy Park as an operations headquarters because East Texas serves as an ideal hub for nationwide product distribution.
"We could have obviously built this project Anywhere, USA. Everybody wants a $5 million project and 40 jobs, especially these days," Steding said. "In my search for partners, my search kept bringing me back to central and north central Texas for steel and for a shipping corridor north, west, east and south.
"The labor base was attractive to us," he said. "Basically, we all speak the same language – welders, machinists, oil and gas, mining – all of that labor fit us very well. We looked very hard at where we could fast-track this project and we kept coming back to Kilgore.
"When we compare the labor market, the quality of life, and the financial and tax incentives, Kilgore wins out," said Steding. "Another major reason for selecting Kilgore is the mature economic development environment. The shovel-readiness of Synergy Park is far ahead of most."
DRILLTOOLS manufactures drilling and excavation products primarily for heavy civil construction such as high rise building foundations, bridge and peer foundations and pilings, and foundations of buildings and heavy structures.
KEDC Executive Director Amanda Nobles said the new company is expected to pump more than $6.8 million into the local economy during the next 10 years in wages, benefits, taxes and capital investment.
For more on Kilgore view http://www.kilgore-edc.com or contact KEDC Executive Director Amanda Nobles at anobles(at)kilgore-edc(dot)com or (903) 983-3522.
About Kilgore EDC: Economic Development Agency funded by a one-half cent sales tax approved by voters in 1990. Governed by a five-member board of directors and managed by a staff of four, Kilgore EDC has won awards internationally for excellence in economic development.