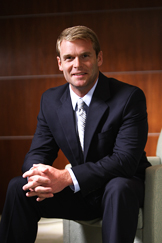 Missoula, Montana (PRWEB UK) 2 May 2012
Missoula, Montana-based ALPS Corporation is pleased to announce that David Bell will be joining its executive leadership team as President and Chief Operating Officer. Mr. Bell comes to ALPS from Allied World Assurance Company (AWAC), a global insurance company founded in the wake of 9/11 by AIF, Chubb and Goldman Sachs. Bell served as the company's Senior Vice President and Global Professional Lines Manager before becoming COO, a role in which he served for the past four years in AWAC's Bermuda offices.
Bell brings extensive knowledge and experience in the insurance industry to ALPS. He began his professional career with The Chubb Corporation as Underwriting Manager-Executive Protection/Assistant Vice President specializing in a number of product lines including public and private D&O insurance and EPL. Bell moved on within Chubb to serve as the Florida Legislative Liaison for the company.
Concurrently Bell emerged as a resource for the ever-changing D&O industry. He penned several articles on industry trends including "The Ups & Downs (Mostly Downs) of the D&O Rate Cycle," in The Professional Liability Underwriting Society Journal, and "Probing The D&O Market," PriceWaterhouseCoopers Bermuda Insurance Quarterly.
Bell's diverse knowledge ranging from underwriting to government relations to being a founding executive of a global insurance corporation will serve ALPS Corporation well. ALPS (Attorneys Liability Protection Society) was founded nearly 25 years ago during the insurance crisis of the mid-1980s by a group of forward-thinking attorneys in Missoula, Montana. At the time, the options for attorneys to purchase professional liability insurance were often unreliable or unaffordable. Instead of making do with what the industry provided, ALPS changed the industry by providing stable, responsibly priced malpractice coverage to protect the legal community.
Today ALPS writes professional liability insurance policies for more the 12,500 attorneys across the country. ALPS is endorsed by more state bar associations than any other insurance company and is rated A- (Excellent) with a stable outlook by A.M. Best rating service. With the addition of Mr. Bell, ALPS will continue its commitment to constant improvement, expanding its offerings to more people and providing continued education, risk management and professional enrichment to the communities it serves.
For Bell, the move to ALPS is really more of a homecoming. He graduated from the University of Montana in 1996 with a degree in Finance. While Bell and his family have lived in Florida and Bermuda for the past 16 years, Bell has maintained strong ties with his Montana roots.
"For ALPS to get a person with David's insurance knowledge and background and sense of humanity is huge," said Robert W. Minto, Jr., ALPS Chief Executive Officer. "I've been working to induce him back to Montana for a number of years and count this hire as one of my greatest successes at ALPS. He and I, together with my current senior management team, see no limit to what ALPS can accomplish."
"I leave behind life-long friends at Allied World and look forward to watching the company continue to lead the property and casualty market," said Bell. "I am very excited to come home to Montana and join ALPS. ALPS has a strong franchise and a respected name in the industry. I look forward to joining the ALPS team."
Bell serves on the Board of Directors for The Maureen & Mike Mansfield Center, an organization dedicated to promoting a better understanding of U.S. and Asia relations. The Center was founded in the spirit of Montana Senator and former U.S. Ambassador to Japan, Mike Mansfield (1903-2001).
Mr. Bell also founded and serves on the Board of Grateful Nation, a Montana-based organization founded in 2007 that provides college education for the children of Montana soldiers killed in active duty in Iraq and Afghanistan. Montana has the highest number of soldiers killed in action per capita and the state has been the blueprint for the Grateful Nation program with a vision to expand into more states throughout the country. "My wife Brittany and I have been humbled by the opportunity to walk with the families of our fallen Montana heroes. Coming back to Montana will allow us to commit more time and resources to this great organization," said Bell.
Mr. Bell will assume his new role at ALPS Corporation effective May 1. "David arrives in Montana on Sunday, moves into his house on Monday, and will be buried at his desk Tuesday morning," said Minto. "The excitement around the office for having him here is palpable. Everybody knows he will be able to take us to an entirely new level of expertise and productivity in the insurance industry."
ALPS Corporation is a preeminent provider of lawyers' professional liability insurance, with an emphasis on protection, stability, and commitment to the legal community. For more information, visit http://www.alpsnet.com.