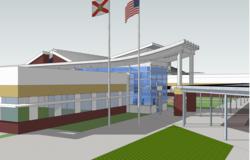 "A primary goal for Suffolk Construction is to make a difference long after the bricks and mortar part of the job is over..." Dago Diaz, VP Education Group - Suffolk Southeast.
West Palm Beach, Florida (PRWEB) May 04, 2012
The School District of Palm Beach County recently awarded Suffolk Construction the Construction Management at Risk Services for the Rosenwald Elementary School Modernization project.
The anticipated 40,776 square foot school, located in the western community of South Bay, FL, will undergo a complete modernization to the existing 314 student stations. Project scope includes the demolition of multiple buildings dating back as far as 1951 followed by extensive site demucking during the first phase before the new construction can begin.
The new construction will consist of an exceptionally efficient exterior building envelop and roofing system, as well as mechanical, electrical, and plumbing systems all meeting the U.S. Green Building Council (USGBC) LEED silver certification requirements. Additionally, at the District's request, given their long standing support of sustainability efforts, Suffolk is currently providing a complete analysis of the potential cost considerations needed to reach the LEED Platinum level of certification.
In order to streamline and enhance construction of the new buildings, Suffolk in collaboration with the design team, is implementing virtual modeling technologies through Building Information Modeling (BIM) early into the preconstruction effort allowing more predictability of the schedule and adding value to the School District.
Dago Diaz, VP of Suffolk Construction's Education Group, advises that this project is particularly unique from a community involvement perspective and has spent many days in the western communities meeting with the local residents. Diaz stated "A primary goal for Suffolk Construction is to make a difference long after the bricks and mortar part of the job is over, not just by providing job opportunities to the local community, but by ensuring these workers learn the skills necessary to keep building high quality facilities for future Palm Beach County opportunities." To achieve this goal, Suffolk Construction has partnered with local construction management sub-consultants Cooper Construction and 2 SBW.
Cooper Construction has a very successful, long-standing track record of working with the School District, while 2 SBW who is a long-time South Bay resident and local General Contractor, will assist with engaging the local western community in the construction process. Both firms are School District certified Small Business Enterprises (SBE) who bring strong business relationships within the community and the School District.
The project, designed by Song + Associates, Inc., is expected to be completed during the summer of 2014, well ahead of the approaching school year.
Suffolk Construction Company
Founded in 1982, Suffolk Construction Company, Inc. is one of the leading privately held construction management firms in the country. Suffolk provides preconstruction, construction management, design/build and general contracting services, and has a strong reputation for delivering challenging building construction projects in the healthcare, education, science/technology, government and commercial sectors. Suffolk's approach, capabilities and offerings are transforming the way clients achieve success in the construction industry. The company's project teams provide clients comprehensive planning services, innovative solutions and technologies, and proven processes, such as Building Information Modeling (BIM), to deliver the most complex building construction projects on schedule and on budget, with minimal risk. Suffolk is a community-conscious organization dedicated to environmentally friendly and sustainable business practices, and is committed to making a positive impact in its local communities through grassroots volunteer work, employee fundraising, and corporate giving. The company's Southeast Division, based in West Palm Beach, Florida, is responsible for major projects such as Marlins Parking Garages, Fifth and Alton, and Wells Fargo Center, which includes the JW Marriott Marquis Miami and Hotel Beaux Arts. For more information about Suffolk Construction please visit us at http://www.suffolkconstruction.com.