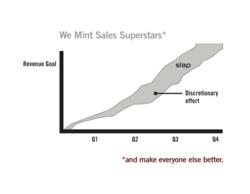 "slap was transformational for our sales and partner organizations. They made us better as a team and as individual contributors."
Dave Swinkin,
Director of Partner Operations at Hewlett-Packard
San Francisco, CA (PRWEB) May 02, 2012
slap, today announced immediate availability of Sales Nitro, which will increase Sales Performance and improve Sales Effectiveness of any sales team. In every sales organization exist sales superstars, average reps and non-performers. By understanding sales and customer cultures, slap is helping companies increase discretionary effort and get reps really smart about what really causes customer response and loyalty.
Sales Nitro, a new solution-set based on proven results at top sales organizations including HP, Oracle, Microsoft, McAfee, EMC and others; increases sales performance of all reps – enhancing monster performance, move the solid middle into monster territory, and drives the non-performers to perform - all while decreasing attrition of top sales talent.
"Without exception, there is a direct and measurable connection between my top-performing sales managers and those who apply these slap processes. At McAfee, slap was also the catalyst to help slam attrition of top talent from 35 percent to 5 percent in a single year" said Mike DeCesare, Co-President of McAfee, an Intel Company.
"Having been a sales rep and run sales organizations as a manager, VP and CEO of a sales-driven software company; this is the first solution that I have seen have rapid and sustainable performance results in sales organizations. The difference between this solution and any other that exists, is that Sales Nitro looks where others don't - at employee and customer cultures", said Mike Walsh, EVP and Partner at slap.
"I simply wouldn't be where I am in my career without the slap solution. They helped me become a better sales rep and then a better sales leader. Their value and ROI are unquestionable" said Adrian Jones, SVP, Sales at Oracle.
about slap
slap is renowned for achieving maximum commitment in manager, employee and customer cultures, the three groups that decide the success of any business. For more than 15 years, slap has been helping the world's top companies in more than 70 countries take advantage of opportunities and solve problems by understanding how cultures work and how to work them. These companies include CNN, Google, Salesforce.com, HP, Oracle, Google, Intel, Time Warner, Viacom, Microsoft, Banana Republic, Electronic Arts and more.