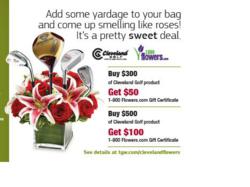 Wichita, Kansas (PRWEB) May 02, 2012
TGW.com - The Golf Warehouse®, a division of Redcats USA and the world's #1 online golf retailer, has partnered with 1-800 Flowers and Cleveland Golf to offer an exclusive promotion that gives golfers the excuse they need to buy new golf equipment and get free flowers for mom – the perfect gift for Mother's Day!
Beginning Monday, April 16, 2012, and running through Friday, June 15, 2012, golfers can purchase $300 of Cleveland golf product and receive a free $50 1-800 Flowers.com gift certificate, or purchase $500 of Cleveland golf product and receive a free $100 1-800 Flowers.com gift certificate. It's a win-win for golf enthusiasts - golfers can improve their game with the best performing golf clubs in the industry, and then use their 1-800 Flowers.com gift certificate to order flowers for that someone special. Even better? Couples can both get new golf clubs and the free flowers are a bonus!
Visit TGW.com and place an order now to allow time for the email gift certificate to arrive and arrange a flower delivery. It's a 'sweet' deal that will have you smelling like a rose!
TGW.com - The Golf Warehouse® is a premier sporting goods brand in the portfolio of Redcats USA, offering the largest and broadest selection of golf products in the world, including: golf equipment, golf shoes, apparel, accessories, personalized golf items and customized golf clubs. TGW.com - The Golf Warehouse® also has three specialty websites: SoftballSavings.com, BaseballSavings.com and SoccerSavings.com.
About Redcats USA
Redcats USA is a dynamic, web-driven home-shopping leader with numerous successful brands and specialized e-commerce sites in its portfolio: OneStopPlus.com®, Woman Within®, Jessica London®, Roaman's®, fullbeauty, KingSize®, BrylaneHome®, Bargain Catalog Outlet – BCO®, The Sportsman's Guide® , Bargain Outfitters®, Boating Savings®, Work Wear Savings®, TGW.com - The Golf Warehouse®, Baseball Savings®, Softball Savings® and Soccer Savings®. Redcats USA offers a wide range of value and quality driven merchandise categories, including men's and women's plus-size apparel, home and lifestyle products, and sporting goods/outdoor gear. Redcats USA is a Redcats company.
About Redcats
Redcats is a world leader in the online distribution of fashion, home decoration, and sports and leisure goods. The group distributes its brands and those of its partners on three continents. These brands include La Redoute, Daxon, Vertbaudet, Cyrillus, Castaluna, Ellos, Jotex, Woman Within, Jessica London, Roaman's, KingSize, BrylaneHome, OneStopPlus.com, The Sportsman's Guide and The Golf Warehouse, as well as specialized collections and websites.
In 2011, Redcats turnover totaled €3.048 bn—with 61% generated from online sales—and employed a staff of over 11,000.
All Redcats brands and e-commerce sites can be found at http://www.redcats.com. Redcats is a PPR company.
Contact Information
Karen Davis
Corporate PR & Communications
Redcats USA
Karen(dot)davis(at)redcatsusa(dot)com
212-502-9315