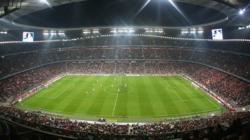 Any international sporting event of this size is always good for our business especially when it features a team from London
London, UK (PRWEB) May 02, 2012
Customers of Private Jet Central are planning to travel in record numbers to the UEFA Champions League Final in Munich. The match will take place on the 19th May 2012 and will be played between Chelsea FC and FC Bayern Munich. While Chelsea fans have only been allocated 17,500 tickets many more are expected to travel to Munich. Private Jet Central has received a record number of bookings with heavy jets such as the Global Express particular in demand. The short flight time and the convenience offered by a private jet hire have made it a popular way to travel to the final for Chelsea supporters.
The match will be played at the 66,000 capacity Allianz Arena in Munich on the 19th May. The final is unique in that it is the first time that it will be played at the ground of one of the teams actually playing in the final. While Bayern will enjoy home field advantage they will not have their usual level of raucous support. Both teams' fans are allocated the same number of tickets which should go some way to negating Bayern's advantage. The match is the highlight of the European domestic season and is expected to attract a global audience in excess of 100 million viewers.
The MD of PJC has said "Any international sporting event of this size is always good for our business especially when it features a team from London". He went on to say "We are nearly fully booked already and are drafting in planes specifically for the final".
More details about the availability of flights to Munich for the UEFA Champions League Final are available from the Private Jet Central website. There are presently a limited number of light, mid and heavy jets available for the 19th. The Munich airport authorities have announced that due to the high numbers of people attending the game the opening hours of the airport will be extended so flights can depart once the game has finished.
About Private Jet Central
Private Jet Central is a global jet charter company with offices in the United Kingdom, United States and the Middle East. Founded in 2001 they offer a range of jet charter services to business and pleasure users in the UK and Europe. With over 10 years' experience in the jet charter industry they are ideally placed to meet their client's requirements. More information on the full range of services offered by Private Jet Central is available from their website at http://www.privatejetcentral.com/ and also by contacting any of their offices by phone or via e-mail.