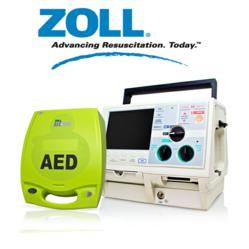 Nashville, TN (PRWEB) May 02, 2012
Based on a 13-year history, DXE Medical (formerly Dixie Medical, Inc.) has chosen to make ZOLL Medical its first "Vendor of the Month." DXE's relationship with ZOLL has played an integral part of their transformation from a one-employee shop in a Franklin, TN apartment, to a 20-person operation in a 27,000-foot facility doing business in all 50 states and 35 countries worldwide. ZOLL Medical has been a reliable, positive partner who has opened many doors for DXE Medical. The personal and professional relationships between ZOLL and DXE employees are some of the strongest in the industry and DXE is proud to call ZOLL a partner.
From 5/1/12 to 5/31/12, customers will be able to choose a free gift with any ZOLL M Series or ZOLL AED Plus purchase.

ZOLL M Series- Choose two extra sets of Stat-Padz or an extra battery ($90 value!).
ZOLL AED Plus- Choose one extra set of Stat-Padz II AND 10-pack of lithium batteries or a free year of medical direction ($99 value!).
DXE Medical was founded in 1999 as Dixie Medical Inc. and has remained under the same ownership and management since that date.