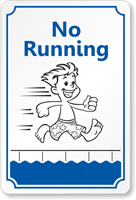 "We are thrilled to be celebrating one year of providing signs to keep swimming the enjoyable activity it is," said Rivka Fogel, Manager at SwimmingPoolSigns.com.
Brooklyn, NY (PRWEB) May 02, 2012
In May 2012, SwimmingPoolSigns.com, an online retailer of signs for swimming pool safety, proudly celebrates one year of business. Swimming is one of the most fun and effective ways to exercise. SwimmingPoolSigns offers management tools to keep swimming a safe and fun activity, and encourages swimmers and pool facility regulators to take advantage of the anniversary promotions.
Swimming is an activity that requires pool visitors to be completely present. According to the Center for Disease Control and Prevention (CDC)'s website, children aged one to four have the highest drowning rates, with most occurring in residential pools. Aside from young children, swimmers may slip and fall on wet pool areas, end up swimming in a water area that is too deep, or dive somewhere shallow. Furthermore, hundreds of people enter and exit pools, leaving behind germs and sicknesses. Signs are a part of an excellent support system to maintain pool areas.
SwimmingPoolSigns provides a wide range of pool signs to ensure all pool-goers are aware of rules. Pool Safety Signs are great allies to help lifeguards and pool officials, and divers will find depth markers and pool stencils. Different states have different sets of pool rules, which is why the sign provider extensively researched sign legislation for pool regulations for all 50 states and Washington D.C. SwimmingPoolSigns recommends utilizing heavy-duty weatherproof, rustproof, and waterproof aluminum signs that outlast the competitors' cheap plastic signs.
Though standard rules signs are important, SwimmingPoolSigns's Funny Pool Signs are an entertaining product line. Signs such as "We Don't Go Skinny Dippin', We Go Chunky Dunkin'," are hilarious options to decorate a pool. Additionally, the retailer also created an amusing cartoon character, "Swimmin' Sam" to infuse playfulness into pool rules signs. "We are thrilled to be celebrating one year of providing signs to keep swimming the enjoyable activity it is," said Rivka Fogel, Manager at SwimmingPoolSigns.com. "Thanks to anniversary sales on everything from customizable templates to pool stencils, we truly believe that customers will find any pool-related product they desire."
For more information, visit http://www.swimmingpoolsigns.com.
About SwimmingPoolsSigns
SwimmingPoolSigns is the ultimate and authoritative sign source for every Swimming Pool owner - offering in-depth state-by-state analysis of the laws, durable metal signs that withstand constant exposure to sun and weather, free UPS shipping for orders over $25 and prices that are 40% below the traditional competitors.
About SmartSign
SmartSign is one of America's fastest growing e-commerce companies and parent of MyAssetTag.com, MyParkingSign.com, as well as more than 50 other sites. The company manufactures and distributes a wide range of signs, tags, mats, and labels. In the past, many consumers have found it hard to find, hard to design and hard to order signs with the right message. By positioning "signs as solutions," SmartSign has taken an entirely different approach. Through highly targeted, content-rich, and authoritative retail sites, the company provides specific solutions to specific problems, such as customizing an asset tag. SmartSign is widely recognized for its quality construction; its signs come with a 3M® warranty and outlast fast-fading, ink-jet signs. Other SmartSign advantages include fast and free shipping, the Web's largest range of designs, and a best-price guarantee.