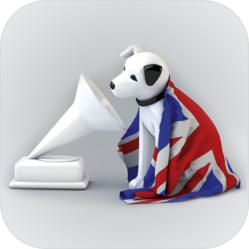 The last sixty years in the UK have shown great creativity and diversity in film and music.
(PRWEB UK) 3 May 2012
Leading entertainment retail specialist hmv has launched a major online survey that aims to celebrate the remarkable achievements in British music and film presided over by The Queen during her sixty-year reign.
hmv, which itself has a heritage stretching back more than 100 years, is inviting its customers and the wider public to use a special voting app on its Facebook page (http://www.hmv.com/jubilee) to put forward their choice of the greatest British albums and films of the past six decades.
The app, which has been developed by hmv's digital and social media agency MMK Media, features hmv's Nipper mascot cloaked in a Union flag in 'Britannia' style in its design.
The national poll is part of a wider 'Britain/Music is GREAT' Industry initiative that, in this special Olympic and Jubilee year, seeks to highlight the far-reaching achievements and contribution of British culture and music.
Participants in the hmv survey, which closes 20th May, will be able to vote for up to five albums and five films, as well as nominate their own 'other' selection if not listed, from a longlist of sixty titles in each category compiled by hmv store and head office staff in a recent internal poll.
The two longlists that voters can choose from reflect our nation's rich post-war cultural heritage, and feature a broad and diverse selection of iconic and contemporary artists, musical genres and cinematic styles ranging from Adele to Zulu and Cult Sci-Fi to Punk Rock.
Unsurprisingly, The Beatles head the albums list with five nominations, along with The Rolling Stones on three and David Bowie, Pink Floyd, Led Zeppelin, Radiohead, Oasis and Blur - who all have two, as well as Queen, Elton John, Kate Bush and Coldplay. The Clash and The Sex Pistols ensure that Punk and New Wave is well featured, and Manchester's contribution from the Nineties is additionally represented by Joy Division, The Smiths and The Stone Roses.
Scotland and Wales have their champions in the shape of Primal Scream and Teenage Fanclub and The Manic Street Preachers and Stereophonics respectively, while, along with Adele and the much-missed Amy Winehouse, more contemporary British artists include the Arctic Monkeys, Dizzee Rascal, Tinie Tempah and this year's Mercury Prize winner PJ Harvey.
The films category is arguably even more diverse, with the James Bond, Harry Potter and Monty Python franchises well represented alongside a selection of Working Title romantic comedies such as Four Weddings and a Funeral and Love Actually. Military films range from The Bridge on the River Kwai to The Great Escape, while classic comedies include the likes of A Fish Called Wanda, Shaun of the Dead and Ealing Studios' The Ladykillers.
Historical dramas that shine a light on a Great Britain of Royalty and Empire include Lawrence of Arabia, Gandhi, A Room with a View and The King's Speech, while modern-day society is reflected by the grittier offerings of Sexy Beast, Tyrannosaur and This is England. One of the most featured actors among the films nominated is Michael Caine, who stars in Alfie, Get Carter, The Italian Job and Zulu
hmv's Gennaro Castaldo, comments: "The beginning of Elizabeth II's reign, and the bright new future it represented, didn't just coincide with a flowering of British popular culture, it helped to provide the very spark that lit the touch-paper for an explosion in music and film talent. Since then, the Queen has presided over the richest period of cultural achievement in our nation's history, so it's only right that her Diamond Jubilee - which ironically also encapsulates sixty years of the official charts, should also be a period when we reflect on the greatest British albums and films of the past six decades."