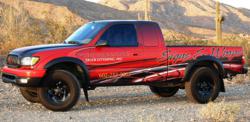 A high quality vehicle wrap with an imaginative design makes the spectators take notice instantly
Phoenix, AZ (PRWEB) May 08, 2012
Before the unveiling of the Jason Wieck Racing Super Comp Dragster last weekend, 1st Impressions Truck Lettering And Vehicle Wraps, a premier vehicle wrap shop in Phoenix, AZ signed on to sponsor the team by supplying them with their custom graphic vehicle wraps.
1st Impressions has long been known for their quality car and truck wraps, but the dragster was a first for them. "I was really looking forward to letting our creative design techs loose on it," Scott Adell, manager at 1st Impressions says, "The drag racing community seems to really appreciate wraps, they have them on everything from golf carts to semis, the wilder the better. Our crew was definitely up for it!"
The team at 1st Impressions Truck lettering had recently returned home from Maplewood, MN, as one of only two wrap shops in the entire state of Arizona, and the only shop for vehicle wraps in Phoenix to pass all certification requirements and testing to become 3M Certified as a graphic vehicle wrap installation shop. 1st Impressions owner Dan Deary states "The 3M certification sets us apart from our competition and I believe it's one of the reasons Jason Wieck Racing approached us for supplying their vehicle wraps".
Jason Wieck, the owner/driver of the Jason Wieck Racing team stated "Obviously winning races separates racing teams, but to get our vehicles noticed, a high quality vehicle wrap with an imaginative design makes the spectators take notice instantly. You can't believe the amount of people that walk past a whole row of dragsters just to check ours out"
In return for the vehicle wraps supplied by 1st Impressions, the Wieck Racing Team agreed to not only to promote 1st Impressions during races and shows, but also promote 1st Impressions Truck Lettering & Vehicle Wraps to their 40,000 Facebook & Twitter Followers.
The 40K combined Fans and Follower of Jason Wieck Racing had been eagerly anticipating the debut of the team's newly completed Super Comp dragster last weekend, and over the week since its debut, Facebook stats alone are showing almost 29,000 post views and over 1,000 people talking about Wieck Racing!
"We just picked up a new title sponsor for the year, Freddy's Frozen Custard and Steak Burgers. The logo 1st Impressions created for Freddy's was a big hit with their VPs, I couldn't be happier" Wieck states.
I'm not sure who's getting the better end of the deal, but from where I sit it's a win, win for both Phoenix Businesses.
1st Impressions Truck Lettering And Vehicle Wraps Business Information:
Established in 1994 in Phoenix, AZ, 1st Impressions is an Award Wining, 3M Certified Graphic Design and Vinyl Installation shop in central Phoenix. They are a BBB member with an A+ rating, and members of the United Applications Standards Group (USAG)
Owner; Dan Deary
Manager; Scott Adell
Mailing Address;
1st Impressions Truck Lettering
And Vehicle Wraps
345 N 15th Ave
Phoenix, AZ. 85007
Phone; 602 253-3332