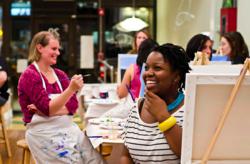 Eat Drink Paint
Natick, MA (PRWEB) May 02, 2012
With Mother's Day fast approaching, many kids (and Dads) don't know what to give Mom. Sometimes, the best gift is a night out.
Palettes is a brand new business in the heart of Metrowest Massachusetts created by a team of local artists who believe that the arts should be accessible to everyone and that there is a creative side in all of us. It is a place for anyone (regardless of artistic ability) to eat, drink, paint and have a good time!
The owners of Palettes invite you to experience this unique space as part of a fun event called National Mom's Nite Out. It's the first nationally organized celebration of motherhood intended to bring together today's moms, physically and virtually. The evening will consist of local events held across the country and will unite over 150 social media groups, companies, local playgroups, mom bloggers and mother social networks in giving moms a well deserved night off.
Palettes hopes local Moms will spend National Mom's Nite with other Moms at Palettes in Natick and create a fun art canvas to take home. The cost is $35.00 per person and $10.00 of each registration fee will be donated to TCAN (The Center for the Arts in Natick) for a scholarship fund. There will giveaways and other goodies sponsored by Metrowest Mamas, a Facebook group with local event listings, deals and other resources for Mamas and their families in Metrowest Massachusetts.
There is plenty of free street parking and Palettes is just two miles from Route 9 and a quick drive from the Mass Pike. Wear comfortable clothing that you don't mind having a bit of paint splatter. While the paint is non-toxic, it can be hard to get out of clothes. Grab a sneak-peak at the Palettes experience - watch this quick video.
To learn more about Palettes, visit their website at http://www.palettesnatick.com Follow Metrowest Mamas on Facebook at Facebook.com/MetrowestMamas to learn more about other local Mom-related events. Details about National Mom's Nite Out can be found at http://www.momsniteout.com