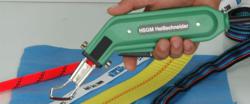 Duncan, SC (PRWEB) May 20, 2012
HSGM Inc., in Duncan, SC, is a leading supplier of heat cutting equipment and blades, and a large part of their success is understanding that each customer will have different needs. Many of these needs can be met with HSGM Inc.'s broad selection of standard blades, but for those who need something special, HSGM Inc. also offers custom made solutions.
In the world of industrial heat cutters, there is no one-size-fits-all approach to getting the job done right. Some customers will need a blade for one purpose, while others will need something completely different. HSGM Inc. works so closely with their customers to identify their specific needs so they can provide the best products for the job.
No shape or cut is too difficult for an HSGM Inc. blade to handle. For customers needing blades to cut perfectly straight lines, HSGM Inc. offers an extensive selection of precision blades designed to do exactly that. Others may need blades for curves, and HSGM Inc. has a solution for that as well.
Marine and banner fabricators often need rounded blades to cut and seal holes for grommets, and HSGM Inc. carries blade for that application as well. Their round blades are idea for making precision cuts in all types of materials. These rounded and half-circle blades are very popular with banner fabricators especially, as they make it easy for fabricators to cut and seal wind holes in their banners, allowing air to flow freely through the material.
In addition to their straight and rounded blades, HSGM Inc. also offers tools for shape-specific projects. Square and rectangle blades are common, but for those looking for even more shapes, HSGM Inc. provides a variety of custom designed triangles, ovals, X-shapes, and more. They are always ready for a challenge and can custom build blades in nearly any shape for virtually every application.
About the family:
HSGM GmbH of Walluf, Germany, world-recognized manufacturer of heat cutting equipment and machines, announced the opening of their first company, HSGM Inc., in the United States in January 1998. The offices are located at Hwy. 290 in Duncan, S.C. (USA) and consist of both a sales office and a warehouse/distribution center. They are a source for high quality heat cutter, hot knife, hot knives, webbing cutter, styrofoam cutting tools, hot wire foam cutting tools, soldering iron tools, synthetic fabric cutter and supplies.They carry a full line of heat cutting equipment, blades, and spare parts for the textile, automotive, agricultural, geo-textile, marine, garment, and sports equipment industries. Additionally, they offer heat cutting equipment for Styrofoam boards used in the building construction trade and small rechargeable soldering guns for use by the electrical and electronics trade. HSGM, Inc. is the exclusive authorized Agent for North America. For more information visit them at http://www.foamcuttingtoolsspartanburg.com and http://www.hsgmusa.com.