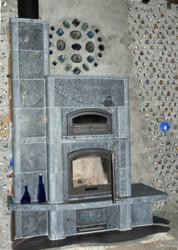 "The Earthship design is a masterpiece of simplicity. Tulikivi compliments it with the timeless and quiet elegance of a simple but completely functional heater that will last generations," says Koch.
Big Timber, MT (PRWEB) May 03, 2012
Earth Day officially comes but once a year—but at Monte Koch's Montana home, the spirit of Earth Day is generated 24/7/365. North of Big Timber, on 64 acres of pristine land, Koch is putting the finishing touches on his dream dwelling. His dream, however, was to live in a spacious, comfortable home that was off the power grid.
Originally, he was planning a log home. Then wildfires in his area and the viewing of a documentary film entitled "Garbage Warrior" about sustainable living "biotect" Michael Reynolds inspired Koch to take his homebuilding idea in a new direction. "I can honestly say that film changed my life," says Koch.
Koch shifted his sights to the "Earthship"® home, designed by Reynolds and his firm, Earthship Biotecture. His investigations into creating a super energy-efficient home also led him to Tulikivi soapstone fireplaces.
"It really created an opportunity for a totally sustainable, integrated home environment," says Koch. "The Earthship design lets you generate electricity and heat water directly from the sun. We get light and heat from the passive solar orientation and the large amount of heat-retaining thermal mass. This design also provides the use of rainwater for drinking, bathing, washing, and growing food. Moreover, it contains and treats sewage in a healthy way. The home is built with tires, glass bottles and other recycled materials."
"My Tulikivi fireplace and cook stove really complemented the goal of off-the-grid living," Koch adds. "Tulikivi's radiant heat helps maintain comfortable temperatures all year long. There have been days when it's -25°F (-31.6°C) outside and 75°F (23.8°C) inside, just from burning wood in my Tulikivi combined with the radiant heat of the thick walls. My fireplace even features a customized bench to sit on for a cozy warm spot by the fire."
Tulikivi's cook stove has proven to be an essential culinary highlight to Koch's two bedroom, two-bath residence. (There's a greenhouse and solar-heated garage, too.) "There's nothing like the flavor of dishes cooked in the Tulikivi. I bake sourdough bread and lots of homemade pizza, roast grass fed beef, chicken and vegetables and make the most unbelievable skillet biscuits. A real treat is overnight oatmeal—there's nothing like having your hot breakfast ready for you in the morning. I use my bake oven like some people use their microwaves!"
"The Earthship design is a masterpiece of simplicity. Tulikivi complements it with the timeless and quiet elegance of a simple but completely functional heater that will last generations," says Koch. "Of course, I haven't had to pay a utility bill in two years, either."
Tulikivi, headquartered in Juuka, Finland, is the world's largest manufacturer of heat-retaining fireplaces, exporting over half of its output to Europe and North America. The company's complete range of fireplaces, consisting of more than 60 models, is considered among the cleanest wood-burning fireplaces in the world. Tulikivi has six production plants and employs over 400 people. For more information about Tulikivi, please visit http://www.tulikivi.com or follow them on Facebook at http://www.facebook.com/Tulikivi
###