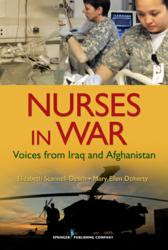 People become uncomfortable thinking of the threats to these life-and-death caregivers, and war nurses, unlike soldiers, are not often discussed.
New York, NY (PRWEB) May 02, 2012
"Nurses in War: Voices from Iraq and Afghanistan," just published by Springer Publishing Company, reveals the rarely exposed world of the war nurse. The book presents the stories of 37 U.S. military nurses who served in the Iraq and Afghanistan wars, and vividly summons the emotional, clinical, physical, and experiential strains of living and working in a war zone thousands of miles from the comforts and safety of home.
The book's authors are Elizabeth Scannell-Desch, a retired Air Force flight nurse, Colonel, command nurse executive at USAF Headquarters in the Pentagon, and Professor of Nursing, and Mary Ellen Doherty, an award-winning Associate Professor of Nursing. Both are markedly intent on telling the war nurse's story. "People become uncomfortable thinking of the threats to these life-and-death caregivers, and war nurses, unlike soldiers, are not often discussed," explains Doherty. "But we wrote this book, in part, to show how they are also in harm's way, and emerge with distinctly valid and valuable stories to share."
In addition to the inherent dangers of working in a war zone, the book also explores the experiences of nurses caring for insurgents and detainees in prison hospitals. Nurses who worked in prison compounds had a particularly difficult assignment which not only made many of them fear for their own safety, but was often riddled with detainee-on-detainee violence and mass casualties. Vanessa, one nurse interviewed concerning her assignment to Abu Ghraib, describes the chaotic ICU unit in the detainee hospital: "We took care of acute blast injuries, gunshot wounds, traumatic amputations, and burns. Since we were providing detainee care, we also had detainees with heart attacks, renal failure, and the like. No one wanted to do the detainee care mission. We were afraid of them, and I think if we had a choice ahead of time, we would have all left."
Physical threat aside, the psychological toll nurses faced was immense, and the stories in the book provide an often overlooked glimpse into what it's like to care for the severely injured and dying every day. Particularly difficult is the youth of their patients, many of whom are in their late teens and 20s, and the unexpected yet high demand for caring for native children—innocent victims caught in the crossfire of war. Typical stories include children injured by accidentally stepping on landmines, or being shot at military checkpoints if they were in a car that did not stop. Other children were injured due to parental neglect or abuse.
Alongside the emotionally evocative stories, "Nurses in War" relays practical strategies for future deploying nurses, offering a women's health perspective on working and living in a war, as well as specific advice, such as having a journal, keeping clinical skills sharp, and reaching out for support from home, straight from the nurses who worked in the Iraq and Afghanistan wars.
Despite all the hardship, asserts Scannell-Desch, all the war nurses recognized that the experience accelerated their personal and professional evolution, taught them to put things in perspective, and shaped them into better people. "Every nurse," she said, "in one way or another, expressed that they would not trade their experience as a war nurse for anything."
For more information on this book, to request a review copy, or to schedule an interview with Drs. Scannell-Desch and Doherty, please contact Dara Salem at dsalem(at)springerpub(dot)com or 212-431-4370 x211.
About Springer Publishing Company
A pioneer in health care and social science publishing, Springer Publishing Company is known as an innovative public health, nursing, rehabilitation, psychology, social work, counseling, and gerontology publisher. The company has won numerous awards, including the American Journal of Nursing Book of the Year Awards, the ALA Choice Awards, and the AAP PROSE Awards, and offers more than a hundred top quality titles annually, in addition to more than twenty journals. From nursing to psychology, Springer Publishing Company is passionate about providing the best textbooks, guides, professional books, and reference works to instructors, professionals, and students. For more information, visit http://www.springerpub.com.
###