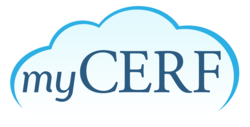 myCERF is the obvious answer for the user that can't afford a high-end 'enterprise' ELN but wants something just as powerful and secure
Redwood City, CA (PRWEB) May 01, 2012
myCERF is a revolutionary new concept in Electronic Laboratory Notebooks (ELNs) – a free cloud-based ELN service that users can access on their iPads. Designed specifically for scientists, CERF for iPad integrates digital laboratory notebooks for documenting work with file cabinets for managing important resources. myCERF builds on the goal of making science research better with exclusive social networking tools created to encourage collaboration.
"myCERF is the obvious answer for the small lab – or single user – that can't afford a high-end 'enterprise' ELN but wants something just as powerful and secure," said Peter Herz, CEO of ELN Technologies. "myCERF enables iPad users running the CERF iPad App to quickly and easily document and review their research. Notebook entries are totally free-form in this system – users can type text, add files of any kind, edit entries, and then flip through their notebooks using intuitive gestures, just like they do when reading eBooks."
The myCERF server is built upon a powerful 21CFR11 compliant ELN engine, ensuring the safety and security of user data. At the same time, myCERF allows users to easily share their work with their colleagues and peers, search for new colleagues with CERF's proprietary Find Experts feature, and collaborate in real time through status updates.
"Many graduate students and post-docs see the obvious value in electronic laboratory notebooks, even if their lab or department can't afford to deploy an ELN solution," said Dr. Rumpf, Director of Product for ELN Technologies. "Now there's no need for them to 'make do' with solutions that don't safeguard their data, that don't allow them to safely share their work with colleagues and peers who may be on another continent. myCERF is the ELN, evolved. Someday everyone will work this way."
To get started, users must first request an invitation at http://www.mycerf.com. CERF for iPad app is available as a free download in the App Store.
About ELN Technologies
ELN Technologies, Inc. provides CERF enterprise software to help organizations protect their R&D investments and increase collaboration and efficiency. The company serves a global base of commercial, academic, government and nonprofit research labs in biology and multidisciplinary research areas. CERF combines Electronic Lab Notebook (ELN) and scientific content management for a complete paperless lab information and record-keeping solution.