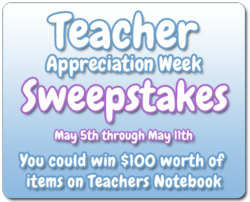 TeachersNotebook.com is fast becoming the "go-to" destination for educators to connect with one another to share and learn in a virtual community.
Freehold, NJ (PRWEB) May 04, 2012
TeachersNotebook.com is announcing the "Teacher Appreciation Week Sweepstakes" that will run from May 5th to May 11th. One winner per day will win a credit of $100 to be used to purchase lesson plans and activities created by teachers.
Sweepstakes winners will be able to choose items from some of their favorite teacher shops or view teaching tip videos from their fellow educators in the Virtual Teaching Expo. The site is free to all educators and homeschoolers and contains paid and FREE items that cover every key topic in education including the Common Core State Standards. Educators can visit the site daily at Teacher Appreciation Week Sweepstakes to enter the sweepstakes every day starting on May 5th, 2012 at 12:00am CT. For the Official Rules, visit TeachersNotebook.com
Debbie Esemplare, Co-Founder of Teachers Notebook, taught Kindergarten for eight years in the New York City School System. She understands the hard work, long hours, and personal sacrifice that educators dedicate themselves to. It is her belief that educators should have a place to go to help one another and share ideas. This belief lead to the creation of Teachers Notebook, a friendly place that makes it easy for educators from around the world to connect, inspire, learn, and teach. "At Teachers Notebook, we value teachers and their daily contributions that go above and beyond a job description. We are grateful for all the hard work, dedication, and the help teachers give their students that very often goes unseen. We appreciate everything they do." says Debbie.
Teachers Notebook wants educators to be aware that every item available on the site was designed and created by an educator like themselves. These educators have spent countless hours creating, refining and testing these resources in the real-world. This is why 100% of the proceeds for every sale goes directly to the educator who created the item.
Many teachers sacrifice large financial burdens in keeping up with classroom materials as well as educational resources. These resources enhance the curriculum to fit the needs of their students and it is a personal goal for teachers to have their students reach their fullest potential. The importance of having a classroom rich in materials and resources that reach children above and below grade level is critical to meeting that goal.
About Teachers Notebook
TeachersNotebook.com is fast becoming the "go-to" destination for educators to connect with one another to share and learn in a virtual community. The site is a place for teachers to buy, sell and share original teaching resources where teacher shops receive 100% of the proceeds of every sale. Teachers Notebook offers digital downloads, teacher friendly clipart, educational forums, and teaching tip videos. The site is the perfect place for hard working educators from around the world to come together and share teaching resources and ideas.