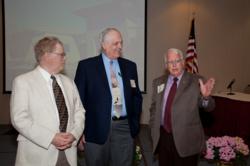 "This project really shows that homeowner association members can come together and work for the good of the community."
Henderson, NV (PRWEB) May 01, 2012
Thanks to a newly expanded community center, Solera at Anthem residents now have more space to meet, relax and have fun. Best of all, thanks to the hard work of the volunteers who serve on the community's homeowner association (HOA) board of directors, the community was able to build its new and improved community center at no additional cost to homeowners.
The expansion includes three new lounges, a conference room, a large kitchen, a library, and a renovated arts and crafts room, as well as four new offices and additional storage space.
"This project really shows that homeowner association members can come together and work for the good of the community," said Frank Fimiano, president of the Solera at Anthem HOA. "As a board, we committed to holding regular meetings to inform homeowners of this project, and several subcommittees were established to ensure that all homeowners who wanted to participate were included."
Solera at Anthem is professionally managed by Las Vegas based RMI Management, which worked closely with the board to help coordinate bids, work with vendors and oversee the project from start to finish. To keep homeowners apprised and obtain their feedback throughout the duration, the HOA board held several town hall-style meetings before the expansion project began and published several articles in the community's monthly magazine.
"We found that our homeowners really wanted to undertake this project," Fimiano said. "And thanks to effective money management by the HOA board, we didn't have to increase monthly assessments or ask for a special assessment to get this done," he said.
He added that the board had been planning for this project for some time, and the money used was derived from the association's investment funds.
The Solera at Anthem community consists of 1,822 homes. Overall costs for the project totaled less than $1 million.
About RMI Management, LLC
RMI Management, LLC (RMI) is Nevada's largest and most experienced full-service community association management firm, providing comprehensive services to homeowner and condominium associations for 20 years. RMI's broad range services includes homeowner association management, association services, rental management and property management, and services for community associations and properties of all types and sizes, located in and around the Las Vegas and Reno metropolitan areas. The company, which has over 700 employees, holds a management portfolio consisting of over 275 associations, representing approximately 95,000 condominiums and single-family homes.
RMI Management is a subsidiary of FirstService Residential Management (FSR). FSR is the largest manager of residential communities in North America, overseeing more than 5,600 properties and over 1.3 million residential units.
FSR is a subsidiary of FirstService Corporation (NASDAQ: FSRV, TSX: FSV), a global leader in the rapidly growing real estate services sector, providing a variety of services in commercial real estate, residential property management and property services. More information about FirstService is available at http://www.firstservice.com.
###
Editor's note: The Solera at Anthem HOA board invites media to tour the new community center and learn more about how the HOA board and homeowners worked together to complete this project.