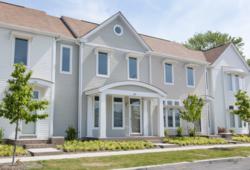 Norfolk, VA (PRWEB) May 02, 2012
The Norfolk Redevelopment & Housing Authority (NRHA) is proud to announce that the first phase of seven new EarthCraft townhomes built by Howerin Construction on 26th Street between Hampton Blvd. and Bowdens Ferry Road has sold out. Buyer interest in the second phase of townhomes is strong and construction is slated to begin soon.
Features and amenities of the Lamberts Point townhomes include:

Two and three bedroom townhomes, with option of two master suites
1,280 to 1,500 square feet
Best townhome value in the region - price points from $175,000 to $215,000, compared to the average price of a new townhome in Hampton Roads of $268,000
Contemporary architecture
Urbane interior design
o High quality countertops
o Wood flooring and cabinets

o Low voltage and energy efficient fixtures
o Programmable thermostats
o EnergyStar appliances and equipment
o Dual-flush toilets
o Flow-restrictor shower heads

Walking distance to Ghent shopping and entertainment district and Old Dominion University
Minutes from Naval Station Norfolk and Downtown Norfolk
Rear garages
Seller to pay buyer's agent 3%
Sales center open weekends noon–3 p.m. Call Bobby Howerin for an appointment at (757) 477-6536.
For photos, visit http://www.nrha.us/homes-for-sale/home-sale-18.
Howerin Construction is a member of NRHA's Builders and Designers Guild which is built on the belief that quality design and craftsmanship are integral components of creating great neighborhoods. http://www.nrha.us/content/builders-and-designers-guild
About NRHA
Founded in 1940, NRHA is a national leader in community revitalization and fostering sustainable mixed-income communities. As the largest redevelopment and housing authority in Virginia, NRHA plays a key role in making Norfolk the city of choice to build, work, play and live.
EarthCraft VA
EarthCraft Virginia provides a certification process for single family and multifamily projects. It serves as a blueprint for healthy, comfortable homes that reduces utility bills and protects the environment. EarthCraft House is your best assurance for a quality home. http://www.ecvirginia.org/
###