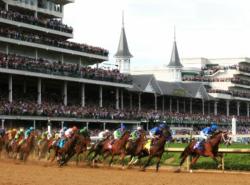 The only way to get to the Kentucky Derby in style without spending a fortune is on a Private Charter Jet - Fly like you own it - pay like you don't...
(PRWEB) May 02, 2012
The Kentucky Derby presents a series of exciting events starting May 1, 2012 Tuesday and building up to race day May 5, 2012 Saturday, with more and more activities each day of the week. Tuesday, Wednesday and Thursday offer a chance to watch the race contenders go through their morning preparation and workouts from reserved seating after having enjoyed one-of several elegant buffet breakfasts. Friday offers a chance to observe a series of specially sponsored races with purses from $100,000 to over a $1,000,000, as well as access to "behind the scenes" areas of Churchill Downs the day before the big race. Due to the highly limited availability of first class seating on scheduled airlines, Blue Star Jets has private charter travel concierge agents standing by to assist race fans still be able to make a fashionable entrance in comfort and style even at such a late date.
Who could be seen at this year's Kentucky Derby? Nobody has a final guest list for this year's event, but last year attendees met ESPN's Erin Andrews, TV personality Kate Gosselin, model Marisa Miller, model Niki Taylor, singer Wynonna Judd, actress Julie Benz, Miss Kentucky, chef Bobby Flay, NFL's Matt Battaglia, American Idol Jordin Sparks, Actor Politician Fred Thompson, actress Kate Walsh among others. The only way to see and meet these celebrities is to be there and the most impressive, elegant and comfortable way to do so, is by Private Jet. There is no need to own an expensive aircraft, as Blue Star Jets has private charters available on as little as 4 hours notice and only having to pay for the flight, not the cost of the plane, the depreciation, pilot salaries, hangar and landing fees, fueling charges, etc. As is said about private charters: "fly like you own it – pay like you don't" and everyone flying on a private jet charter will look like a Millionaire in the process, impressing everyone else at the 2012 Kentucky Derby.
The big race day offers a number of special purse horse races culminating in the $2,000,000 Kentucky Derby at 6:24 PM. All races can be viewed from the grand-stands or special boxes, with elegant food being served at tables set for 8 guests. The excitement builds throughout the day and races can be watched from the elegant dining room while enjoying a delicious dinner from multiple delicious buffet tables.
In order to arrive refreshed, in-style and ready to take full advantage of all the Kentucky Derby has to offer, flying in a private jet is the only way to go. There are two convenient private airports serving the Kentucky Derby within less than 10 miles from the venue, one is Bowman Field, Kentucky, one of the oldest continuously operation general aviation airports in the US, the other is Clark County Regional Airport in Clark County Indiana, which is only 7 miles from Louisville Kentucky. Both airports are able to service private airplanes from Turbo-props to jets of all size. Jumbo or Business jets can use the Louisville International Airport.
Blue Star Jets can assist race fans to and from the Kentucky Derby from anywhere Worldwide on only four hours notice in comfort, style at the best possible prices. If attendees have a flexible schedule, they can save up-to half the price of a private flight by using a Shared Private Flight from any departure point. A private charter travel concierge is available anytime day or night for the best deal on a private flight, or by visiting the web at http://www.BlueStarJets.com.