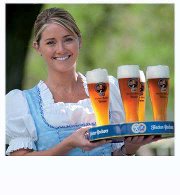 "For true beer enthusiasts, a trip to Munich's Oktoberfest is the ultimate!" says US brand manager, Mark Rehberger. "And it's easy to win this trip, so why not give it a try? Simply enter on Facebook."
(PRWEB) May 02, 2012
For true beer enthusiasts it's the Mecca of Brewing, the world's largest beer festival…the 202nd anniversary year of the original Munich Oktoberfest. And what better host for such a grand trip than Hacker-Pschorr, the famed six-centuries-old traditional Munich specialty brewer, that is making it possible to win a trip for two to Munich by simply entering the Hacker Pschorr promotion on Facebook.
And Hacker-Pschorr is making it easy to enter, as every beer enthusiast 21 years of age and over, can enter on Facebook. Hacker-Pschorr's Oktoberfest Facebook offer includes: Airfare to Munich for two people, three nights' Munich hotel accommodations, Hacker-Pschorr Brewery Tour, and VIP seating and hospitality within Hacker-Pschorr's Oktoberfest Tent. Enter on-line at http://www.Facebook.com/HackerPschorrUSA. Entry deadline is May 31, 2012. Offered to U.S. residents at least 21 years old at time of entry or older, void where restricted or prohibited by law, and subject to Official Rules.
Hacker-Pschorr's traditional Munich Gold Lager, Hacker-Pschorr Weiss, Hacker-Pschorr Weiss Dark, and Hacker-Pschorr Original Oktoberfest are the ultimate summer companions to summer barbeques, après-sports, or just sitting back and enjoying the day. And to properly serve and enjoy Hacker-Pschorr Weiss this summer, a new premium shatter-proof acrylic Hacker-Pschorr Weiss glass is now available. Aptly full-color branded with "Hacker-Pschorr Weiss," the new acrylic glass makes it easier than ever to enjoy the summer while sipping the perfect summer bier, Hacker-Pschorr Weiss. Prosit!