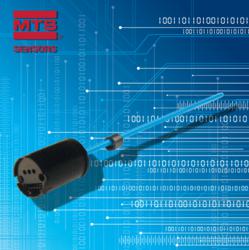 (PRWEB) May 01, 2012
MTS announces the addition of SSI (Serial Synchronous Interface) to its line of core embeddable magnetostrictive sensors intended for budget-sensitive OEM applications such as tools, desk top devices and consumer goods. SSI offers the advantages of a true digital non-contact continuous position measurement capability at prices that make digital magnetostrictive linear sensors attractive for use in more compact, space-sensitive, OEM product applications. C-Series embeddable core sensors require less space and have a lower budget impact than their larger industrial machinery counterparts because the sensor takes advantage of the host OEM product's inherent environmental protection, eliminating housing costs. What's more, embeddable core sensor elements are produced on fully automated equipment providing consistent, automotive level quality using automation efficiencies.
SSI is a proven communication technique for continuous measurement sensors and has been in the industrial sensors produced by MTS for over 10 years. It only requires a clocking pulse from the OEM controller to get each bit of a 24 bit position count word from the sensor at 400 killobaud up to 50 meters away. Each bit count represents one increment of the 100 micron or optional 50 micron resolution. The update rate is 1500 Hz in binary or optional gray code.
Optional accessory housings for liquid level and high pressure applications are also available.
SSI and analog embeddable core sensors are suitable for use in professional grade woodworking tools, metal forming and automotive tools, personal recreational vehicles, marine pleasure craft, portable medical care and treatment equipment, and other commercial and consumer equipment. Among the many applications that have successfully used MTS core embeddable magnetostrictive technology are steer-by-wire systems, agricultural implement robotics, automotive fluid change tools, two-wheel and four-wheel vehicle suspension tuning and ride enhancement, and medical care, diagnostic and treatment control.
For more information, please contact: MTS Systems Corp, Sensors Division, 3001 Sheldon Drive, Cary, NC 27513. Phone: (919) 677-0100. E-mail: sensorsinfo(at)mts(dot)com or visit their web site at http://www.mtssensors.com.
MTS Sensors, a division of MTS Systems Corp., is the global leader in the development and production of magnetostrictive linear-position and liquid-level sensors. The Sensors Division is continually developing new ways to apply magnetostrictive sensing technology to solve critical applications in a variety of markets around the world. With facilities in the U.S., Germany, Japan and China, MTS Sensors Division is an ISO 9001-2008 certified supplier committed to providing worldwide innovative sensing solutions.