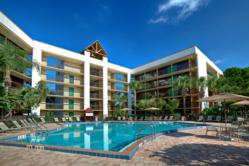 Combine luxury with family fun has never been easier, thanks to Rosen Hotels affordable Summer Vacation Packages.
Orlando, Florida (PRWEB) May 16, 2012
Searching for the perfect accommodations in Orlando, Florida can certainly be a challenge. However, budget-minded families can now enjoy a serious dose of luxury and comfort during their next Orlando vacation, thanks to special Summer Vacation Packages at Rosen Hotels.
Those in search of a perfect family destination or a quiet getaway will appreciate the new vacation packages available at various hotels throughout the Orlando area. Regarded as one of the most trustworthy hotel brands, Rosen Hotels is focused on providing vacationing families with the budget options they need to make the most of their summertime Orlando vacation.
With so much to do in the Orlando area during the summertime months, now has never been a better time to take advantage of these limited-time vacation packages.
"These hotels are perfect choices for families and couples who want to save on accommodation without sacrificing luxury," says Sunil Govind, founder of OrlandoEscape.com. "These special summertime vacation packages make it so easy for families to take a memorable Orlando vacation that won't break the bank."
The Rosen brand in Orlando includes Rosen Inn, Rosen Inn at Pointe Orlando, Clarion Inn at Lake Buena Vista, and Orlando Quality Inn International. Each hotel offers spectacular amenities that are uniquely their own. For example, Clarion Inn offers the traditional resort stay, while Quality Inn International is a more budget-friendly location. Rosen Inn at Pointe Orlando brings style and comfort at a reasonable price, while Rosen Inn offers a traditional yet luxurious hotel stay.
There are many special vacation packages that offer fantastic value for trips taken during summer of 2012. For example, families who stay for two to three nights will save 15%, with any additional nights being offered at a discounted 20% rate. There's also the Girl's Getaway Package, which includes free transfers to attractions, buy one get one free breakfast and dinner, and special discounted rates from $59.99.
Residents of Florida will enjoy special discounts at the Clarion Lake Buena Vista, a AAA 3 Diamond and Walt Disney World Good Neighbor Hotel. Room rates start at a 30% discounted rate. Residents who stay for three or more nights will receive a $25 room credit.
"These special vacation package deals make it incredibly easy for anyone to experience the magic of Orlando in the summertime," Govind says. "With these accommodations, you'll have plenty of money left over to enjoy the many fabulous attractions of Orlando!
To find more information on the number of Summer Vacation Packages available during the summer months , visit http://www.orlandoescape.com for more information.
About OrlandoEscape.com:
Launched in 2001, Orlandoescape.com is the #1 Internet site for Orlando, Florida, featuring Top 20 Orlando vacation package deals, travel articles, and links to related sites. This is your "one-stop shop" for hotel reservations, vacation rentals, discounted tickets, special deals, and travel information related to Orlando, Florida – one of the world's most popular travel destinations. The Orlandoescape.com blog contains the latest information on local events, hotel promotions, restaurant and attraction reviews, Top Ten lists, day trip ideas, travel tips, fun facts about the Orlando area, and much more.