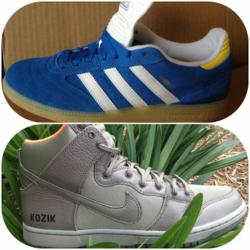 "I doubt they will riot. I'm 'obscure' compared to say an NBA star."
Annapolis, MD (PRWEB) May 02, 2012
At Pure Board Shop, in Annapolis, Maryland, Pure's staff have found themselves busy with a recent shipment of two different special edition shoes from two of the biggest shoe companies ever to exist. Just this week Pure Board Shop has received and released the highly anticipated Adidas Blusenitz and the Nike Kozik High's. Although these names might be unknown to the general public Dennis Busenitz and Frank Kozik are big names in the skate and art work, respectively.
In the skate world Dennis Busenitz is known for his speed and his effortless style. He was one of Adidas Skateboarding's first pro's and Pure Board Shop has always done well with his pro model since it was released. This new special edition Busenitz pro model, dubbed the "Blusenitz", sports a bluebird-colored upper constructed from suede, which is contrasted with white and sun yellow leather detailing. The Adidas Blusentiz skate shoe takes the legendary copa mundial and makes it skate ready. This special edition of the Busenitz Pro is available a limited time at select retailers. Other features include a gum rubber outsole and Busenitz sticker. Pure expects to do very well with this special edition Busenitz, considering the success of his regular pro shoes.
Just as Dennis Busentiz might not be a house hold name outside of skateboarding, Frank Kozik is not that well known outside of the art world. Kozik is based in San Francisco, California, where he produces artwork, toys and graphic design. He formerly managed his own record label, Man's Ruin Records (1995-2001).
He has produced artwork for a diverse range of musicians such as Pearl Jam, the Butthole Surfers, Green Day, Neil Young, Sonic Youth, the Melvins and many more. In 1996, he directed Soundgarden's "Pretty Noose" music video.
Kozik's commercial clients include Nike, Gatorade, Absolute Vodka, Oakley, Harley Davidson, and Spike TV.
In 2001 Kozik left the music business and devoted himself full time to fine art and the newly emerging Vinyl Art Toy movement. Since 2001 he has designed over 300 separate toys and art multiples.
Now Kozik has teamed up with Nike SB for a signature pair of military-inspired Nike SB Dunk Hightop sneakers. The Kozik Model features a design whose almost entirely olive green upper belies the complexity of details ranging from the materials chosen to the sockliner and insole markings. When asked about his new shoe Kozik replied, "I doubt they will riot. I'm 'obscure' compared to say an NBA star."
Out of all of the themed Nike SB shoes this seems to be the first really military themed shoe. Everyone at Pure Board Shop is excited for the release of this shoe, that seems to be a little more than just a limited color way.