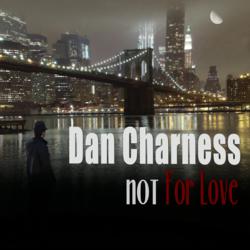 Not for Love represents what I most aspire to as a writer and as a performer, and that is versatility.
New York, NY (PRWEB) May 03, 2012
The American singer-songwriter genre has, over the past four decades, continually expanded in its range and definition. It is a genre in which artists as diverse as John Mayer and Adele are said to co-exist. So it is indeed rare to find an artist like Dan Charness, who, in one collection of songs, easily touches so many corners of the singer-songwriter tradition. In his newly released EP, Not for Love, the award-winning songwriter leads his audience on a far-reaching musical journey through six new songs.
From the thumping heartbeat of its opening track, "Insomnia," to the smooth, slide-guitar ripples of "Hey Ms. Me," Charness's distinct and honest voice shines through each song. In the title track, "Not for Love," Charness demonstrates the extent of his renowned falsetto, which soars through a melody reminiscent of Gordon Lightfoot or Dave Matthews. And the climax of the EP, an anthem for his generation, shows off Dan's mastery of folk-rock, as he combines a simple Gaelic-infused melody with a powerful, triumphant American backbeat.
"Not for Love represents what I most aspire to as a writer and as a performer, and that is versatility," Charness explains. "I grew up worshipping artists like Paul McCartney, Brian Wilson, and Paul Simon, not just because they were–and are–wonderful songwriters, but because they were bold and willing to adapt their craft to many different styles. And that's exactly what I set out to accomplish in Not for Love."
Trained at a young age as a classical cellist, Charness learned to adapt his formal musical training to the realm of production. And with the help of acclaimed New York City producer Dominic Fallacaro, whose tasteful arrangements helped to unify this diverse collection, Charness was able to breathe his own creative vision through every song. "Each track is coming from such a different and unique perspective," Fallacaro remarks, "but ultimately Not for Love is gelled by wonderful musicians who created a cohesive sound throughout the EP."
Track listing:
1. Insomnia
2. Not for Love
3. Hey Ms. Me
4. Long Way to Go
5. Generation Y
6. We Were Young
To listen to a track from Not for Love, or to download the entire EP, click here: http://dancharness.bandcamp.com/
About Dan Charness
Dan Charness began his career performing his music in New England in 2006 and releasing a debut album, All Over the Map, with a follow-up EP, One Night Stand in 2008. Both were self-produced and met with much acclaim. They also showcase Dan's talent as a multi-instrumentalist, performing nearly every instrumental and vocal track.
In the summer of 2010, having graduated Phi Beta Kappa with a degree in history from Wesleyan University, Dan relocated to New York City and began recording a new album, promoting his work with regular performances at well-known city venues such as The Bitter End, Rockwood Music Hall, and Caffe Vivaldi. His debut commercial release, Brand New Day, met with high praise from fans and industry professionals alike, and its single, "Summertime Delight," took first place in the folk category of the Indie International Song Contest. The self-produced album drew praise for its sweeping instrumental arrangements and garnered wide-spread consumer interest due to the breadth of material and a range of influences that draw from folk-rock to gospel. As Dan insists, "Versatility in sound and style may make for a challenging marketing venture, but musically it is the only way for each track on a record to remain adventurous and fresh." Dan continues to generate his musical repertoire and regularly tours the Northeast, performing in cities from Toronto to New York. To learn more about Dan, visit his website, http://www.DanCharness.com.