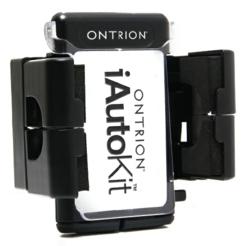 iAutoKit includes everything you would need for hands free phone usage while allowing easy visibility for navigating from common phone applications
Dallas,TX (PRWEB) May 02, 2012
iPhone and Smartphone users who will be in attendance at the International CTIA Wireless show next week will want to be sure to stop by Booth #1224. There, OnTrion, the manufacturer of high-quality mobile phone batteries and accessories, will be formally debuting its new Apple® approved iAutoKit™. This kit includes everything you would need for hands free phone usage, while allowing easy visibility for navigating from common iPhone and other Smartphone application.
Slated for May 8 to May 10 in New Orleans, La., the International CTIA Wireless 2012 is a showcase for "All Things Mobile." Its purpose is to meet the needs of the ever-growing – and demanding – global wireless marketplace. It is billed as the place to be for wireless aficionados who want the inside scope on the latest and greatest carrier, enterprise, communications, apps, content and social networking products and services the industry has to offer.
Occupying more than 300,000 sq. ft. of exhibit space, CTIA hosts over 1,000 exhibitors and draws more than 40,000 attendees every year. With its 2012 "All Things Mobile" theme, one of those exhibitors that is sure to prove popular is OnTrion, with its Apple® approved iAutokit™ which includes car outlet phone charger, USB (2.0) connection, standard stereo input, iPhone power adapter, suction cup & mount for phone.
For more information on the iAutoKit™ that will be making waves at this year's International CTIA exhibition, visit http://www.ontrion.com. To see the Apple® approved iAutoKit™ in action, drop by Booth # 1224.
Follow us on Twitter: http://www.twitter.com/ontrionbattery
Like us on Facebook: http://www.facebook.com/ontrion
###
CONTACT INFORMATION:
Palki Kochar
13650, TI Blvd., Suite #309
Dallas, TX 75243
(877)676-0877
http://www.ontrion.com