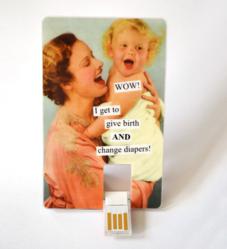 A special Mother's Day Flash Drive comes with 10 preloaded Anne Taintor mother-related images.
New York, NY (PRWEB) May 02, 2012
For more than 25 years, Anne Taintor has made smart women smile with her unique line of greeting cards, magnets, sticky notes, and dozens of other stylish, affordable products. Just in time for Mother's Day, she brings her droll impertinence to a new line of Anne Taintor Canvas Prints and Anne Taintor Flash Drives, available exclusively at AnneTaintor.com.
If you can't afford a Picasso for your mom this Mother's Day, Anne Taintor has just released a few selected—and signed—works of art. This fabulous wall art comes in three different prints, each with Anne's signature design paired with the wry text that has earned her the title "The Patron Saint of Female Frustration." Buy your mom one or all three and make her home or office decor as sassy as she is. Each piece is 8" x 8" and ½" deep and is priced at $33.99.
Anne Taintor Mother's Day Flash Drives
A special Mother's Day flash drive ("WOW! I get to give birth AND change diapers!") comes with 10 preloaded Anne Taintor mother-related images. These wafer-style drives hold 8GB of your photos, music, and documents. They make a great gift for the Excel-wizard Mom, or you can surprise her by filling it up with family photos or a special digital mix tape.
These drives are the size and shape of a credit card and slip neatly into your pocket or wallet. There are also another five designs to choose from, each with six preloaded Anne Taintor images. The flash drives are $22.99.
In honor of moms everywhere, now through May 13, consumer orders placed at AnneTaintor.com receive free shipping. To see the complete line of products, visit http://www.annetaintor.com. For more information, contact Clare Hertel at 505-474-6783 or Clare(at)clarehertelcommunications(dot)com.
###