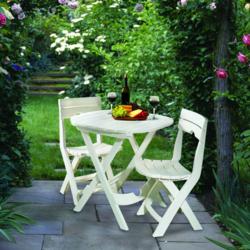 Our customers are the lifeblood of Adams Manufacturing. Our customers have helped us become the industry leader in many areas. We manufacture, with pride, the safest, most innovative USA-made products in the world." Says an Adam's Manufacturing Corporate
Elma, New York (PRWEB) May 02, 2012
The Made In America Store expands on the styles of furniture in the store by adding folding tables, chairs and stools. Adam's Manufacturing Corporation brings consumers Quik-Fold® technology, a light-weight plastic furniture brand that makes it easy to fold up and go mobile.
Adam's Manufacturing Corporation brings three different styles of furniture to the Made In America Store. Consumers have a choice from tables, chairs and end tables, all of which fold up easy and very mobile. Colors for the table and chairs can be either come in beige or a forest green. The stepping stools come in either black, beige, maroon or white.
Consumers interested in purchasing or viewing Adam's Manufacturing Corporation Brand, Quik-Fold® Furniture, can visit our website at http://www.MadeInAmericaStore.com.
For over 25 years Adam's Manufacturing Corporation has been manufacturing light-weight furniture in their small town of Portersville, Pennsylvania. "Small town" is no exaggeration as the population of Portersville is just barely over 250 people.
"We're a world-class supplier that still cherishes its small-town values" says an Adam's Manufacturing Corporation representative.
Adam's Manufacturing Corporation is convinced the best way to keep quality high and costs low, a company needs to produce every component in one facility. This is exactly what Adam's has done. Their new, three acre facility incorporates labor-saving technologies and a larger warehousing capacity which keeps productions high.
In the 25 plus years in business, Adam's has learned how to create the safest, easy-to-use and affordable products in the market today.
The Made In America Store is located at 900 Maple Road in Elma, New York and is committed to selling 100% American manufactured products. You can visit http://www.MadeInAmericaStore.com for more information or shop our catalog of over 290 vendors that are devoted to producing USA made products. All US military personnel both active duty and retired receive a discount every day. Consumers can also keep up to date news articles, events, photos and contests with Facebook, Twitter, Google+, Pinterest and Tumblr!