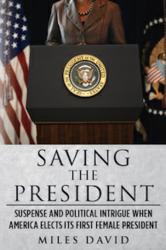 New York, NY (PRWEB) May 08, 2012
It might seem logical for WWII Veteran Miles David to spend his days on a golf course; instead, the author, who at 86 sees himself as a time traveler, has drawn upon a broad sweep of personal history to write his debut novel. David first served in the Combat Engineers as American forces defeated Germany, then observed significant events like the Nuremberg trials as a staffer for Stars and Stripes, the Army daily newspaper. Later as President/CEO of Radio Advertising Bureau (R.A.B.), the marketing arm for radio, he rubbed shoulders with advertising's Mad Men, and as a Who's Who in America listee had the opportunity to meet President Richard Nixon.
"Saving the President", Miles David's political thriller, tells the story of Margaret Massey, America's first woman president as she battles international bullies and even her own congress in an effort to win a positive place in history. Readers characterize the author as a fresh voice though most may be unaware David is a combat veteran who used his knowledge of the military to create the book's taut action sequences. By naming the military hero in the story, Aaron Kaplan, the author was even able to honor a fallen soldier from his neighborhood.
In the early 1940's, Miles David and Aaron Kaplan were just kids playing stickball on the streets of New York when both were sent to the front lines in Europe. Once the author returned home safely from his tour of duty, he discovered Kaplan had not been as lucky. In the novel David describes his character Lt. Colonel Aaron Kaplan as an officer with an uncanny instinct for winning battles, naming him after the boy who never made it home.
The theme of executives battling to survive figures heavily in the book as well, something David learned about first-hand in the competitive world of advertising. At R.A.B., during a time when many thought the growth of TV would destroy radio, it was said David and his team fought to save the medium so successfully that it endured and prospered.
The author also uses shrewd observations about today's turmoil in Washington to describe recent and possibly future political events. For example, in the book, Russian leader Vladimir Putin is so desperate for money to help him keep winning elections that he rents a submarine to Somali pirates. "I was fortunate in anticipating trends so the book could feel as current as our 24-hour news cycle," David said.
Inexperienced politicians in powerful positions and international crises averted through secret back-channel agreements are just a few of the up-to-the-minute events explored in "Saving the President". At the book's opening we find America plunged into a second Great Recession after the crash of Europe's banks, while everyone from the Castro Brothers to China's leaders see newly elected Margaret Massey as an easy target. With the help of Lt. Colonel Aaron Kaplan, America's 'Iron Lady' shows international tyrants just how strong a female president can be.
But when a rogue presidential strategist tries to save the economy by kidnapping Wall Street bankers, congress begins speculating whether their media-magnetic leader was complicit in the plan. While Massey battles a cast of characters only Capital Hill could attract, her reputation as the first woman president hangs in the balance.
"Saving the President" is now available on Amazon as an eBook for Kindle ($2.99) and in Trade Paperback ($12.55).
About the Author:
After fighting in Europe ended, Miles David started his journalism career at Stars and Stripes, the Army daily newspaper. In civilian life, he became a magazine editor. For many years, he was President/CEO of Radio Advertising Bureau, radio's marketing arm, and went on to become vice chairman of an ad agency. He is the author of "Making Money With Co-op" and a graduate of New York University. David lives in Manhattan with his wife.
For more information please visit: http://milesdavidauthor.com
###