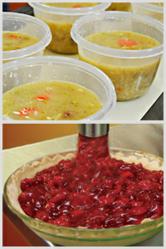 Whatever the depositing need, chances are a solution exists, particularily one that provides greater flexibility in planning future production
Vancouver, BC (PRWEB) May 02, 2012
Modular depositing equipment provides quick and easy integration for creating configured lines customized to a bakery or food processor's production. Small producers may only need a depositor, but with a growth in sales and demand, may need a dline that can handle much more.
Unifiller presents five easy steps to creating an automated depositing line.
1. Start with a versatile depositor like the Universal or Pro for precise portion control. A depositor increases depositing speed and reduces overall product waste, freeing up staff for other production activities. The result, perfectly portioned products, everytime, allowing for proper ingredient cost assignment.
2. Add a transfer pump, a Hopper Topper, to transfer product from container to hopper without sacrificing quality. Hopper Toppers remove the danger of lifting heavy bowls, while keeping production flowing 24/7.
3. Add accessories to your depositor for versatile applications. With hundreds of accessories, a depositor can be turned into an injecting machine, speading machine or a decorating machine.
4. Add a conveyor to speed up and increase production or to move a product through various production stages continuously.
5. Add a sensor to automate your line and trigger your deposit, so there's no longer a need for manual depositing, allowing for re-assignment of staff to other production activities.
Accoring to Stewart Machpherson, the V.P. of Unifiller Systems "Whatever the depositing need, chances are a solution exists, particularily one that provides greater flexibility in planning future production."
For more information visit http://www.unifiller.com.
Unifiller offers depositors, transfer pumps, filling machines and cake decorating equipment for various budget and production volumes for the food and baking industry.