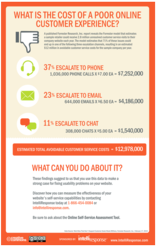 Toronto, Ontario (PRWEB) May 03, 2012
IntelliResponse Systems, providers of the patented IntelliResponse Answer Suite, a multi-channel web self-service software platform that delivers answers to customer and service agent questions, today showcases its latest infographic which describes how a poor online customer experience on a company's website can lead to over $12 million in avoidable customer service costs.
Based on a published Forrester Research, Inc. report, the infographic reveals a Forrester model that estimates that a sample retailer could receive 2.8 million unresolved customer service visits to their company website each year. However, the majority of these customers could end up escalating their issues through higher costs channels such as phone, email, and chat. The total estimated cost of these actions accumulates to over $12 million for the sample company per year. The infographic also provides a break out of the costs for each of these three customer escalation channels (1).
These findings suggest to us that companies build a strong case for fixing usability issues on their website and work towards enhancing their self-service capabilities.
Online Self-Service Assessment Tool
To discover the key requirements for delivering great online service and to learn more about a new online self-service assessment tool that helps companies evaluate their website's effectiveness, contact us today.
About IntelliResponse Systems
IntelliResponse enhances the multi-channel sales and customer service capabilities of hundreds of enterprise businesses and financial institutions. The company's Answer Suite technology is an award-winning On Demand software platform that allows customers and service agents to ask questions in natural language, and get one right answer - regardless of the hundreds of ways the question may be asked.
With more than 500 live customer-facing implementations answering 100 million+ questions, IntelliResponse is the gold standard in first line customer experience management. With the IntelliResponse Answer Suite, your company web site, mobile application, social media channels and agent desktop can all be transformed by an engaging virtual concierge, empowering customers to ask questions using normal, conversational language. The correct and complete answer is then instantly served to them in a variety of engaging ways. For more information about IntelliResponse, visit http://www.intelliresponse.com
1 "Web Sites That Don't Support Customers' Goals Waste Millions", Forrester Research Inc., February 17, 2010)