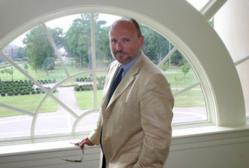 Lynchburg, VA (PRWEB) May 01, 2012
Liberty University has announced Dr. Norman Mintle as its new dean of the School of Communication. He will assume the role on July 1.
Mintle comes to Liberty from Regent University in Virginia Beach, Va., where he served as the Associate Dean for Academics and Chair of the departments of Cinema and Television and Communication Studies.
He received his bachelor's degree in Communications from Evangel University in Springfield, Mo., and earned his master's degree in Interpersonal Communication and Mass Media from Western Michigan University in Kalamazoo, Mich. He earned a Ph.D. in Organizational Leadership at Regent in 2004.
"We are very pleased that Dr. Norm Mintle is joining the leadership team at Liberty University. The combination of credentials and experience he possesses will be extremely valuable as we continue to build Liberty's School of Communication into the best in the nation," said Dr. Ronald Godwin, Senior Vice President for Academic Affairs and Provost.
Mintle brings many years of executive leadership to Liberty, having served as the Vice President of Programming and Marketing for the Christian Broadcasting Network (CBN) from 1989-1996, Executive Vice President and COO for The Total Living Network from 1998-2000, and the president of Pure Media Group, Inc., a consulting agency that specializes in new media, television, fundraising and organizational leadership.
Dr. Mintle's heart is obvious as he envisions his new role here at Liberty: "My passion is collaborating with faculty to fully prepare our students as communicators and artists who are undeniably Christian and whose work effectively engages the manipulations and distortions of truth that are so pervasive in our postmodern culture," he said. "We will never shy away from or avoid the challenges of our day; rather, we want our graduates armed with the spiritual power to professionally enter the industries of media with such excellence that they cannot be denied position and influence."
Liberty University, located in Lynchburg, Va., is the world's largest Christian university. More than 12,500 students attend classes on its 6,800-acre residential campus and nearly 100,000 study in its thriving online education program.