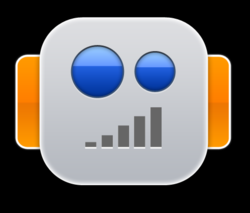 appsbar's robot app coach is a big fan of doing stuff that our society says is only "for girls."
New York, New York (PRWEB) May 02, 2012
Appsbar.com has recognized "Makeup for Men" as the appsbar App of the Day because appsbar's robot app coach is a big fan of doing stuff that society says is "for girls only," like brushing your teeth.
The app developer told Digi that basic hygiene is for everyone, but "men deserve to look good too." Digi's all about equal rights, and equal mascara, but he didn't have any answers to the app builder's most serious questions:
"Why should makeup be acceptable for women only? Men also have appearance flaws that could be corrected with the application of just a small bit of makeup. Everyone understands and realizes that male movie stars and models wear makeup. So why can't the everyday Joe also have that privilege?"
Digi agrees, thinks Alice Cooper was more scary without makeup, and of course wants to be able to wear dresses at work. And play field hockey. That's why Digi likes the "Makeup for Men App," a great app that has "all the information that you need to get your look right."
Where it can be downloaded:
Google Play
Why Digi likes it:
Makeup for Men was built by Digi's friends over at XY TIM, Selected for Men, a Makeup and Skincare range by Ten Image Cosmetics and Cazcarra London. They used appsbar to bake into their app all the good stuff they know about makeup – and made it all exciting by leveraging video, social networks and maps. Made with appsbar, this app was free to make using appsbar's iPhone app builder, Windows Phone app builder or Android app builder, and even better, it's free to download.
How anyone can make an app:
Simply join the community with an email address and get started on an app. Digi, appsbar's loveable robot app coach, is there to help at each step.
About appsbar:
http://www.appsbar.com was launched in 2011 to fill the gap between over-simplified apps and costly, professionally-produced apps. appsbar.com apps each average 500 to 1,000 downloads within the first day of being published. In 2012, appsbar became the leading developer of Android apps with more than 10,000 published. appsbar was developed by Appsbar Inc., a company founded by Scott Hirsch. appsbar has grown to a community of everyday app developers and opened the way for businesses and people to engage with friends and brands online through the development of customizable digital tools. For company contact information and partnership opportunities, visit http://www.appsbar.com
For More information:
Joe McGurk
PR(at)appsbar(dot)com