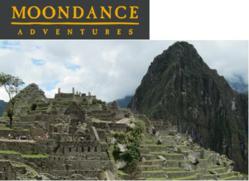 The Machu Picchu lodge to lodge trek group will embark on the famous Salkantay route...
Asheville, NC (PRWEB) May 02, 2012
Moondance Adventures, a summer outdoor adventure and community service travel program for teenagers and adults, announces dates for its third annual expedition to Machu Picchu for adults only. The Machu Picchu Lodge to Lodge Trek group will embark on the famous Salkantay route starting October 22, 2012 and will nestle in cozy accommodations of private lodges along the trail. The group will fly back to the States on October 30th after completing their nine day journey.
Open to 12 participants, the small group size allows for more personal attention from a Moondance guide as well as the staff of Mountain Lodges of Peru who help outfit the trip with Moondance. The Moondance group will be accompanied by a personal chef, two mule drivers, an assistant guide and a lead guide—all local Peruvians—as they make their way to the famous city of Aguas Calientes at the base of Machu Picchu.
The four luxury lodges, exclusively owned by Mountain Lodges of Peru, can sleep between 12 to 24 guests. Each with its own personal charm, the lodges are a welcome refuge after six active days on the Salkantay route complete with hot tubs, personal massage therapists and rustic yet elegant decor. Highlights of the trek include views of Salkantay Peak (at over 20,000 feet, the highest mountain of the Cordillera Vilcabamba), a remote glacial lake hike at the base of Humantay Peak, an exhilarating climb to the 15,345 foot Salkantay Pass, a visit to a local coffee plantation, an optional zip line adventure and a unique view of Machu Picchu only enjoyed by locals.
Not just solely for seekers of adventure, the Moondance Lodge to Lodge Trek also suits those interested in local culinary delights. Perhaps the most unique meal of the trip happens on Day Five at the Collpapampa Lodge. There, the group is welcomed by a traditional Peruvian-style cooking technique known as "Pachamanca"—a barbecue of the earth. Food is prepared by the lodge's extremely friendly and knowledgeable staff as they cook delicious vegetables, meats and potatoes by way of burning rocks in an underground pit.
Day eight promises to deliver a new level of excitement and wonder as the group makes its way to the famed Lost City of the Incas, Machu Picchu. The day begins with a 3-hour privately guided tour of the ruins followed by a spectacular buffet lunch at the famous Sanctuary Lodge, located just past the gates of Machu Picchu. Guests have plenty of free time to roam the site and explore such main attractions as Huayna Picchu, The Sacred Plaza, The Temple of the Sun and the Sun Gate.
Moondance president and founder Hayes Hitchens began the company in 1996 as an option for teens seeking adventure during their summer break. Over the years, Moondance has offered several adult programs in addition to the dozens of programs the company runs for teens during the summer months. Other Moondance adult programs have included a Wind River Range expedition in Wyoming as well as a Pacific Northwest sea kayaking tour, a mountaineering expedition to Mount Rainier in Washington State and a Kilimanjaro expedition in Tanzania, Africa.
Visit Moondance Adventures' website at moondanceadventures.com, call 800-832-5229 or email info(at)moondanceadventures(dot)com to learn more about the Machu Picchu Lodge to Lodge Trek.
About Moondance Adventures:
Founded by Hayes Hitchens in 1996, Moondance Adventures is a teen adventure travel program offering a wide variety of 13-23 day experiences including community service and wilderness-based leadership opportunities. Headquartered in Asheville, NC, Moondance offers 17 co-ed, non competitive teen summer adventure programs for teenagers ages 12-18. Moondance provides fun, education and character-building with each program's curriculum. Moondance has been conducting unique teen summer adventures in many of the finest teen adventure travel areas in the world with courses offered in Africa, Central America, Europe, North America and South America.