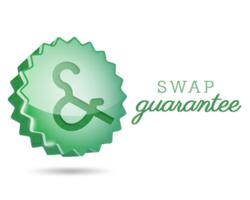 this is just one of the first steps we need to take to be accepted by the average consumer,"
Brooklyn, NY (PRWEB) May 02, 2012
It is now the beginning of May and summer is quickly approaching, and as New York City's Browse & Pick prepares for their swap debut in Dumbo, Brooklyn on Saturday, June 2, they have updated their website to include there long anticipated Swap Guarantee page. The Swap Guarantee was an addition that co-founders David and Ann Badillo felt was necessary to include back in late March of this year. "Our vision is big, we want to make the idea of clothing swaps a common experience for the average American. When discussing swaps with potential customers we surveyed many of them and found that the one thing that stopped the majority of them from participating in a swap was the risk involved. We felt the need to include a guarantee that would give potential swappers the confidence they need to participate in our swaps," said David Badillo.
At a typical clothing swap, there is no protection for swappers. They show up and they have no assurance that their sizes or preferred styles will be available. Browse & Pick's guarantee just may be the solution everyone is looking for to solve this problem. At their swap events, each attendee receives a certain amount of swap points based on the quality of clothing they bring to the swap. They then use those swap points that they were assigned as a type of currency to swap at their event. Browse & Pick's Swap Guarantee states the following on their site:
"If for any reason you cannot use more than 50% of your assigned swap points, you are eligible to file a claim and will be able to rollover the remaining swap points into a future swap event at no extra cost."
David and Ann believe they have definitely set themselves apart from other swaps with this guarantee. "We have looked at many organizations that are running swaps, and no where can we find any of them offering their participants a guarantee. For us this is just one of the first steps we need to take to be accepted by the average consumer," said David Badillo.
For more information regarding Browse & Pick's Swap Guarantee you can visit their website at http://www.browseandpick.com
About Browse & Pick Corporation
Browse & Pick's mission is committed to being one of the major leaders in recycled fashion throughout the New York City area and educating the mainstream of the benefits of sustainable fashion. Browse & Pick is based in Williamsburg, Brooklyn with future plans to expand their tours throughout New York City and other major cities throughout the United States