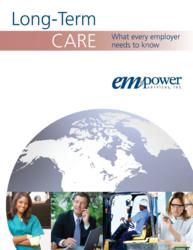 Many employers aren't aware that the Federal government and many states offer incentives to encourage the purchase of insurance protection
Boston, MA (PRWEB) May 02, 2012
The aging long term care crisis was outlined by a senior member of the U.S. Senate Committee, Senator Bob Corker (R-Tenn.) this past week. Corker stated that long term care financing is "a major train wreck" and "heading for a national crisis." The senator was referring to the "tidal wave" of boomers and other workers who will begin to need long term care services in the coming years.
Employers need to act quickly to protect both their employees and bottom line. The cost of long term care to employers is currently between $17.1 and $33.6 billion in lost productivity and another 13 billion annually in increased health insurance utilization. Long term care costs for skilled facilities are rising between 3 – 6% annually.
The cost to employers includes employees missing time, leaving the workforce altogether, extra recruiting and training and additional health utilization from employees under stress, anxiety and physical strain. For those providing care, six out of 10 or 62% will make a workplace accommodation, such as going in late or leaving early, taking a leave of absence, or part-time work to manage the demands of family, career and care giving.
What should employers do? First, they need to get educated. A new report by EM-Power Services lays out information employers need to understand about the impact long term care will have on their employees and their bottom lines.
The report provides an overview of the financial and human costs of long term care based on studies published by government agencies, non-profit organizations and industry sources to highlight both the problems caused by this pressing planning issue and planning strategies to mitigate the impact. A copy of the report can be downloaded at: http://longtermcarefacts.co/
"Employers need to recognize that there is a serious gap in employee coverage for long term care services," said Doug Ross, President of EM-Power Services, "Health and disability insurance doesn't cover these services, and government programs only kick-in after all personal assets including savings and retirement have been exhausted." EM-Power Services works with companies across the country to design and implement effective long term care educational and planning strategies.
Covering the gap doesn't need to be costly to employer. "Many employers aren't aware that the Federal government and many states offer incentives to encourage the purchase of insurance protection," said Ross. "The result is that high quality long term care policies can be offered to employees at little or no cost to the employer."
Employers are in a unique position to provide long term care education and planning solutions to younger employees, who would benefit from earlier adoption of policies. Ross noted, "We can provide employees education, discounts on insurance protection extended family members and underwriting concessions, making it far more valuable than could be obtained individually on the individual market."
Close to 30% of people who apply for long term care insurance protection today are declined due to pre-existing medical conditions. Employers need to engage younger workers today to protect their future from the type of future crisis Senator Corker identified last week.
A copy of the report is available for download at: http://longtermcarefacts.co/
Doug Ross is the President of EM-Power Services. Since 1996, EM-Power Services, Inc. has helped employers throughout the country implement long term care insurance benefit programs. The firm works with major underwriters and offers both individual and group long term care insurance solutions. EM-Power Services is located in Oxford, MA. 1-800-483-1115.
###