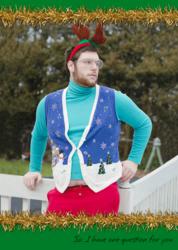 Hallmark judges looked for cards with funny or unique photos and writing that worked well together and could be sent to anyone.
Kansas City, MO (PRWEB) May 07, 2012
Hallmark today announces the winners in its recent card-creation contest, "A Very Tacky Christmas." Greeting card design and writing hopefuls were invited to create funny holiday cards featuring photos of holiday tackiness – a kitschy homemade gift, holiday food disaster, gaudy decor, or over-the-top Christmas fashion. Entrants were encouraged to check out the Hallmark Contest Facebook page for tips on this contest.
Contestants submitted their creations in March. The 13 winning designs will be sold on Hallmark.com beginning May 7. In-store winners will be announced in July and will be featured in Hallmark Gold Crown® stores and Walmart stores for the 2012 holiday season. Winners each receive $250 and could win an additional $250 if their cards are chosen for in-store sales.
Hallmark judges looked for cards with funny or unique photos and writing that worked well together and could be sent to anyone. Participants could enter a total of three different cards.
This is Hallmark's 32nd consumer-created card contest. The 13 winners are from 9 different states. Here are the winners in Hallmark's "A Very Tacky Christmas" competition:
Patty Cimlov-Zahares
San Jose, Calif.
Lynden Cox
Defuniak Springs, Fla.
Kathryn Dunlap
Plainfield, Ill.
Stephanie Jamiolkowski
Allentown, Pa.
Tina Mazzeo
West Chester, Ohio
Rebecca Meinders
Pecatonica, Ill.
Corey Rabeau
Haverhill, Mass.
Annette Robidoux
Fruitport, Mich.
Summer Ruegger
Boring, Ore.
Mar Sension
Altoona, Pa.
Kate Stover
Valencia, Pa.
Melinda Wind
Indianapolis, Ind.
Jackie Wright
New Haven, Mich.
Also today, Hallmark announces the opening of the latest competition – "Thanks, Mom." Consumers are invited to write a sweet, sincere, or funny letter, short story, or poem with the theme "Thanks, Mom" to your mom or someone who's been like a mom to you. Winning submissions will be compiled into a book. Submissions will be accepted through May 20.
For more information or to submit a card, visit http://hallmarkcontests.com.
About Hallmark Cards, Inc.
Hallmark makes the world a more caring place by helping people express what's in their hearts and spend time together – a privilege few other companies in the world enjoy. Hallmark greeting cards and other products are found in more than 38,000 retail outlets in the United States, including the network of flagship Hallmark Gold Crown® stores. The brand also reaches people online at Hallmark.com and on television through Hallmark Hall of Fame original movies and cable's top-rated Hallmark Channel. Worldwide, Hallmark offers products in more than 30 languages available in 100 countries. This privately held company is based in Kansas City, Mo., and is led by the third generation of the founding Hall family. Visit http://corporate.hallmark.com for more details.