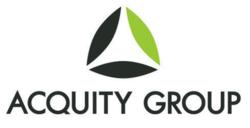 (PRWEB) May 02, 2012
Acquity Group(NYSE AMEX: AQ), a leading global Brand eCommerce™ and digital marketing company, announced today that it has relocated its San Francisco office to accommodate a surge in demand for its expertise helping leading retailers and business-to-business organizations develop cross-channel digital solutions.
The new space will support a growing client base of major global brands in the Bay-area and increased headcount, which Acquity Group plans to grow significantly by the end of 2012. The company will add new jobs across all organizational functions to augment its existing team with experience in design, information architecture, digital strategy planning, user-experience development and technology.
"As a center for world-class resources, San Francisco provides access to many of the best technology and talent available in our field," said Andy Peebler, Acquity Group Executive Vice President responsible for national business development. "This has enabled us to not only accelerate our overall hiring numbers but actually bring on influential thought leaders with a strategic vision that positions our clients ahead of the curve."
Over the past 18 months, San Francisco has emerged as a global hub for innovation as many of the Bay-area's most buzzed about startups and technology companies, including Zynga, Yelp and Twitter, have recently moved their offices into the city limits. At the forefront of technological innovation, Acquity Group's core expertise creating functional and compelling user experiences has attracted a client base of major retail and B2B brands.
"Since we opened our San Francisco office last January, we have grown tremendously," said Scott Webb, Client Partner at Acquity Group. "It has been incredibly rewarding to work with some of the most talented individuals in the field and help many well-respected brands refine their cross-channel experiences and thrive in this extremely competitive global landscape. We expect to continue this momentum throughout 2012 and beyond."
The address for the new San Francisco office is 1 Sansome Street, San Francisco, CA 94104.
About Acquity Group:
Acquity Group is a leading global Brand eCommerce™ and digital marketing company, creating award-winning digital experiences for global brands. Our multi-disciplinary approach brings together strategy, design, and technology to create brand-unique experiences that build firm customer relationships. Acquity Group works with leading brands like Adobe, AT&T, General Motors, Motorola, and Saks Fifth Avenue through offices in North America and Asia.