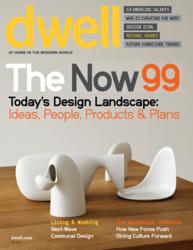 New York, NY (PRWEB) May 03, 2012
Dwell Media has just published the first Now99 Issue, a list of the 99 ideas, people, and places that are leading the modern design community today. The issue is not a typical Top 100 – no annual round-up of familiar names inching their way forward year after year – Dwell's Now99 intends to evolve each year, incorporating fresh ideas and faces. While Dwell hopes that some of the young designers in this inaugural issue will become the next Philippe Starck and Patricia Urquiola, they will continue to capture what is new and influential, while honoring the core tenets of good design.
Highlights from the Now99 include:
The New Guard: In the tireless search for what's modern now, Dwell editors combed the globe for fresh talent, visiting furniture fairs and design festivals all over the world to find tomorrow's stars in the making. These 27 up-and-comers are shaping the future of design, creating objects that make the world and our homes more functional, beautiful, and inspiring. Watch as they become household names in the years to come.
Michael Graves, the architecture and healthcare visionary, grants Dwell exclusive access to his home in Princeton, New Jersey, to share his thoughts on how paralysis has affected his approach and practice. The interview appears online as an exclusive video in our "Design Icon" series. http://www.dwell.com/videos/michael-graves-on-design.html
Senior Editor Kelsey Keith talks with two social media stars at the top of their game: Maria Popova of brainpickings.org and Christopher Jobson of Colossal who use their voracious cultural appetites and growing digital audiences to educate the masses on art and design.
Dwell highlights Pop-Up Parks, from Picnurbia in British Columbia to The Porch in Philadelphia, organizations that are recreating and reclaiming our urban environments as Jane Jacobs intended.
Designer Stanley Saitowitz of San Francisco-based Natoma Architects Inc. makes the list for his collection of modern Judaica pieces, a set of ritual objects that are changing the way people approach religious tableware. (http://www.dwell.com/articles/modern-ritual.html)
The year's most unlikely new Pritzker Prize juror, Supreme Court Justice Stephen Breyer, makes the list and tells Dwell why, given his jurisprudence, Chinese architect Wang Shu was the perfect choice for this year's Pritzker prize.
Architect Mitchell Joachim of Terreform ONE makes the list for his big ideas for biologically based structures, giving new meaning to the term "organic architecture".
END
About DWELL MEDIA, LLC: Dwell Media is the parent company of Dwell magazine, Dwell Digital + Mobile, Dwell on Design events, and the Dwell Homes Collection. Founded in 2000 by Lara Deam, Dwell has received countless industry awards and is widely regarded as a leading voice in the modern design movement. Championing a philosophy that is idea-driven and sensitive to social and physical surroundings, its enduring passion for design leads a passionate community of design-seekers to be "At Home in the Modern World."