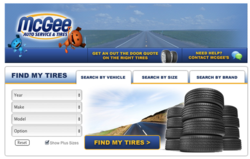 We also see it vital for dealers to be able to expose their products and services wherever they choose, not just their website.
COOKEVILLE, TN (PRWEB) May 02, 2012
As a part of TCS Technologies' continued dedication to engaging consumers with tire dealers, today the company unveiled a new tire and wheel searching capability allowing consumers to get a quote or even buy a tire or wheel from the dealer's Facebook Page. With more than 1000 customers across the US and Canada, TCS is the first technology company offering this capability.
This new Facebook tire and wheel searching capacity is the latest step in allowing consumers to search and get product quotes wherever they are on the web. The Facebook tire search platform, built in tandem with tire, wheel and service websites provided by TCS, delivers a dealers inventory to Facebook's more than 800 million active users.
The app allows a dealer to specify what tire and wheel products are displayed when a user searches by vehicle, size or brand. The tire and wheel results are displayed with a photo of the product, specifications, features and benefits and even price if the dealer so chooses. Pricing can be pulled real-time from the dealer's software or even display pricing and quantity from multi distributor channels. Dealers who choose not to display pricing can have the option to include a 'Request a Quote' button next to each product. These dealers receive an email containing consumer contact information and which product they would like a quote on.
One of the most powerful features within the app is each product has a 'like' or 'share' button. When the Facebook user finds the product they are interested in or a price they find desirable, they can do what Facebook users do best – make that product become viral by sharing it with their networks. Not only does this empower the dealer to become viral, but it also gives the dealer's web presence a boost with the search engines. Recently Bing announced they are turning up the volume on the social influence in search, by letting the Facebook "Like" influence search results. Google has already utilized the Facebook "Like" to influence their results along with the new Google+ Plus buttons website visitors are seeing across the web. Both of these major search engines track and monitor these respective social factors to help websites gain a higher trust rating and authority in search engine results. This shows how influential a social presence can be, and why businesses who have not yet opted into the world of social media, should re-consider their initial decision.
"Now more than ever, TCS customers are integrating social media into their marketing portfolios. It is imperative we answer the call from tire and wheel consumers to make it easy to research a dealer's products, get a quote, price or buying experience on those products and also share products through their preferred channels. Many of our dealers are very active on Facebook and do a nice job of creating social interaction in their communities; however they lack a way to tangibly measure the effectiveness on converting social interaction into buyers via Facebook. This tire and wheel catalog app is step one for our customers." remarked Kenny Pratt, TCS Vice President of Technology. "We also see it vital for dealers to be able to expose their products and services wherever they choose, not just their website. We already have dealers who want to place this app on Facebook pages outside of their own Facebook page. This will really open up lots of partner marketing for our dealers to sell tires through channels not available to them before."
Florida based McGee Auto Service and Tire was one of two beta testers for the Facebook app. The 28 location dealer has been very active on Facebook, growing and interacting with their local Facebook community which is over 7,000 fans currently. "We display our inventory on our website and receive an increasing number of quote requests on tires each day. In collaboration with TCS, moving this success to our already active Facebook site was a natural thing. So far we have seen around one quote request coming from Facebook for every 5 we receive from our website, http://www.mcgeetire.com," stated Kevin McGee, McGee Tire District Manager. "Besides our brand and products becoming even more viral within Facebook, we have seen our traffic from Facebook to our website increase. TCS actually created a micro website within Facebook which points users to http://www.McGeeTire.com specific pages. We really got the best of both worlds with this new app: better Facebook conversions as well as more traffic to our website."
Online retailer SimpleTire.com was also a beta tester for the app. SimpleTire.com launched the Tire Finder Facebook App in early April and has already seen a 20% conversion rate from visitors using the Facebook application and buying their tires online. When comparing this conversion rate with that of the average ecommerce web store, the positive difference is astounding. An average conversion rate online is usually between 2-4%, so seeing a 16-18% lift on that is a tremendous success for SimpleTire.com. "Being the only tire ecommerce site out there with the ability to search and sell tires via Facebook has definitely opened a lot of doors for Simple Tire," said Andy Chalofsky, Simple Tire owner. "While we are excited about the new buying experience we are providing consumers, we are equally excited about the Simple Tire brand exposure this has created in the social networks as well as the doors this application has opened for additional marketing opportunities."
"There is no other place where 800 Million people interact almost daily. It is a sales barrier to have to leave Facebook to purchase when the moment arrives in which the consumer wants to purchase from a tire and service dealer. If a dealer has a fan base and interacts with consumers on Facebook, it's a natural progression of the Facebook experience to offer your products and services within Facebook. Other industries have been successful with this model for months now, and we are pleased to bring this extension to the tire industry," remarked Mr. Pratt of TCS.
A pioneer among tire technology providers to embrace web applications, TCS has been providing solutions since 1993. The company continues to invest in avenues like social media to gather feedback from consumers, promote dealer brand awareness and promotions. TCS says this is the first of many 'first to industry' products it will launch in the coming months. Interested dealers can visit the company's website at http://www.tcstire.com or call 888-449-8473.
About TCS Technologies:
Tire Company Solutions, a Microsoft Certified Partner, develops and markets both off-the-shelf and custom tire software solutions, web applications, ecommerce platforms, and support and consulting services to tire companies across the US and Canada. TCS has built a product base which continues to prove itself as a revenue increasing, business streamlining asset to any size tire business. TCS has tools unmatched in the industry, and customization within each of its products to cater to the way tire dealers and retreaders do business. TCS's home office is located outside Nashville, TN with a second location in Salt Lake City, UT.
CONTACT:
TCS Technologies
888-449-8473
http://www.tcstire.com
Like Us on Facebook | Follow Us on Twitter