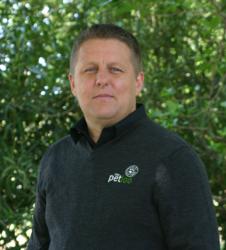 I was so blown away by the quality of the products and the culture of honor and respect that permeated every aspect of how Skovron and Team Pet Loo operate.
Los Angeles, CA (PRWEB) May 02, 2012
With a 53 percent sales increase in the past year and a new product on the horizon, Pet Loo has recruited David Charlson to serve as President of Sales – North America starting May 1. Charlson will be instrumental in bringing Pet Loo's new, innovative cat litter, Fresh Air, to shelves this summer.
In addition to more than 20 years of sales experience, Charlson has built a reputation as a cat litter industry expert over the past few years, with his sales and leadership skills playing a major contributing factor to the success and subsequent acquisition of Purr & Simple All-Natural Cat litter by a major pet food company. Through Charlson's efforts, Purr & Simple cat litter was being sold by more than 31 distributors domestically and in more than 12 foreign countries in just two years time.
"Charlson's experience speaks for itself," says Tobi Skovron, CEO and Founder of Pet Loo. "His background in sales, coupled with his experience in the pet litter industry, will be a driving force in the successful launch of our new cat litter this year."
Initially, Charlson was brought on as a consultant to ensure that Pet Loo's newest revolutionary cat litter met the high standards that the company demands from all of its products. Charlson was so impressed with the litter, in addition to Pet Loo's brand and culture, that he expressed interest in joining the team on a more permanent basis.
"I was so blown away by the quality of the products and the culture of honor and respect that permeated every aspect of how Skovron and Team Pet Loo operate," said Charlson, when asked why he decided to join the company.
Pet Loo is widely known for its innovative "Backyard in a Box" patented pet toilet, which has recently been featured in major national media outlets such as The Chicago Tribune, CNN, CNBC.com and USA Today, among many others.
About The Pet Loo
The Pet Loo concept was invented in 2003 by Melbourne, Australia based-Founder and CEO, Tobi Skovron when he was just 23 years-old. The business officially launched in 2006 under Pup-Pee Solutions Pty Ltd and won the People's Choice award on New Inventors, the ABC television program in Australia. Simply put, The Pet Loo or "backyard in a box" is a unique solution to a worldwide problem facing pet lovers – how can I be a pet owner if I don't have a place or the time to let my pet out? By using a patented drainage system, synthetic grass and 100% chemical free, hygienic and odorless materials, The Pet Loo provides an indoor potty option for a pet. It is ideal for pet owners living in apartments, condos, houses, offices, or boats or anywhere that does not have an easy option for taking a pet outside. The Pet Loo has proven to be a great help for the elderly and disabled who desire the therapeutic benefits of pet ownership, but are not physically able to meet all of its outside needs. Today, The Pet Loo is used in over 84 countries around the world. From celebrities including Dr. Phil to its average customer – a 22-38 year-old female – The Pet Loo continues to grow in revenue and sales. To purchase The Pet Loo, which ranges in price from $99-$149, visit the online store at shop.thepetloo.com. "Like" The Pet Loo on Facebook at facebook.com/PetLoo, and follow on Twitter: @PetLoo.