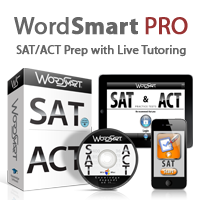 San Diego, California (PRWEB) May 03, 2012
WordSmart Corporation is excited to announce the launch of WordSmart Pro, its new pacesetting product. Designed for college-bound students preparing to take the SAT or ACT tests, WordSmart Pro is a revolutionary approach to test preparation that combines the convenience of an online course with the personal attention of having a one-on-one private tutor. Even better, at under $700, WordSmart Pro is nearly 1/3 the price of competing offerings that include private tutoring. Every WordSmart Pro course comes with the following features:

5 scheduled full-length SAT or ACT practice tests
Access to a bank of thousands of practice problems and over 200 instructional videos
2 sessions per week of one-on-one tutoring via phone or web conference
Unlimited access to WordSmart's Award-Winning Vocabulary builder
Unlimited access to WordSmart's SAT/ACT Math Core Skills builder
Student Progress is monitored and overseen by a personal learning manager
WordSmart Pro is also backed by an industry leading money back guarantee: after following the 4-month course, if your student has not increased their actual SAT score by 300+ points or ACT score by 6+ points WordSmart will refund your full purchase price. Please see http://www.wordsmartguarantees.com for details.
To find out more about the WordSmart Pro product, visit the website.