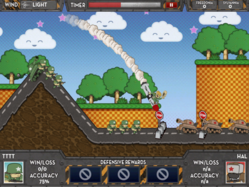 Nuclear Option features single player, wifi multiplayer and pass n' play modes with several difficulty levels.
Dallas, Texas (PRWEB) May 15, 2012
PewPew Entertainment is proud to announce the release of their new game, iSiege: Nuclear Option, now available on the iPad, iPhone and Android phones. The game, which is a hybrid artillery / strategy game, provides a fast-paced, action-packed experience, complete with a very stylized, colorful look. iSiege: Nuclear Option features single player, wifi multiplayer and pass n' play modes with several difficulty levels.
Players take turns unleashing troops, tanks, missiles and artillery, attempting to destroy the opposing side. Strategy and planning are essential factors in the gameplay, forcing the players to think ahead and utilize their available countermeasures. Players must also think fast; there is a timer that limits how long you have to make a decision. This keeps the game moving at a quick pace.
The game connects to Game Center, which allows the player to earn achievements, score bonuses and unlock challenges by successfully landing combo attacks, destroying enemy forces and unleashing nuclear strikes. The game keeps track of the player's accuracy percentage, win-loss record and allows the player to compare their score with friends. Due to the various play modes and difficulty levels, iSiege: Nuclear Option offers countless hours of fun and entertainment.
Kane Poehlman, of AppAdvice.com, said in his recent review, "The graphics and sound effects really spice this game up. The cartoon-like appeal and constant explosions really bring this arcade game to life." To read the full review, click here.
The app, available for only $1.99, is available now on the Apple App Store and Android Market.
About PewPew Entertainment:
PewPew Entertainment was created by James Carrell and Kendall Nicholas, both of whom are currently working in Afghanistan as contractors. Their passion for games led them to form PewPew Entertainment. iSiege, the company's first game, is the culmination of a dream that took almost a year to develop, thanks to help from Plow Digital. iSiege is the company's first of many games. As they continue to grow, they hope to one day develop blockbuster games for everyone to enjoy.
Media Contact:
James Carrell or Kendall Nicholas
703-253-9121
Pewpewentertainment(at)gmail(dot)com
james.carrell(at)pewpew-entertainment(dot)com
kendall.nicholas(at)pewpew-entertainment(dot)com